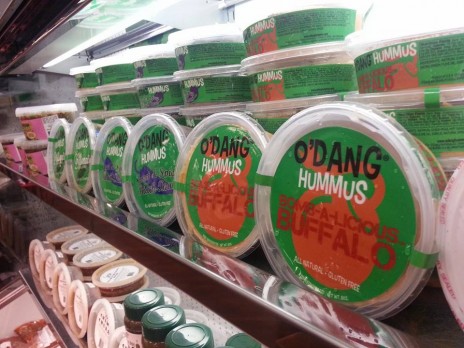 Jesse Wolfe, the creator of O'Dang Hummus, looks for a Shark to taste his wares and invest in Shark Tank episode 702. Wolfe says he wants O'Dang Hummus to be "the rebels, the disruptive kids of hummus." With flavors like Buffalo, Sweet and Spicy, and Dill Pickle Hummus, O'Dang is well on the way.
Wolfe, a business management and entrepreneurship major at UCF, started making his own Hummus 4 years ago after getting his wisdom teeth pulled. When he got sick of milkshakes, his girlfriend suggested he try it, and he liked it! He began whipping up his own flavors and found out everyone LOVED it. A professor at University of Central Florida persuaded him to join the Joust – UCF's new venture competition – and O'Dang Hummus came in third place, netting Jesse $4000.
He wanted to sell in the Lake Eola Farmer's Market in Orlando, but the waiting list was two years long. He eventually packed his hummus up and went straight to the woman in charge and made her try it. After she got a taste she, got him in the next week. Since then, he's become the hummus king of central Florida farmers markets with a commercial kitchen and three employees. In the past year, he's introduced a line of O'Dang sauces, revamped the packaging and landed a deal with Publix Supermarkets.
Wolfe likely needs a Shark to help with increased production costs. Do Sharks eat hummus?
O'Dang Hummus Shark Tank Recap
Jesse comes in seeking $50K for 10% of his business. He says hummus has been around 900 years and it tastes like it! He hands out samples and the sharks love it: Mark says "that black bean hummus is the sh*t!" Jesse says O'Dang is breaking down the ethnic barrier that exists in the hummus world and he mentions Sabra, which has the lion's share of the market.
Next, he introduces his bottled hummus dressing which has no dairy, no corn syrup and is 100% organic and gluten-free. He just had his second meeting with Publix and says he'll do $1.3 million in sales if they come aboard. So far, he's "accidentally" sold $70K worth of O'Dang and he'll be running 40% margins at Publix. He actually had his Facebook fans crash Publix's website – the first time that's happened.
Barbara sees enthusiasm but she thinks he's underestimating himself – he's too naive – she's out.
Robert doesn't have a food product in his Shark Tank portfolio and says he's irritated by Kevin and Barbara's food business successes; he offers $50K for 15%.
Kevin offers $50K for 20%. Jesse asks if Lori would go in with Robert; she'll do it for $50K for 25%. Jesse counters with $50K for 20% – Lori and Robert agree.  Mark says he's still in, but Jesse says "DONE" and does the deal with Lori and Robert.
RESULT: DEAL with Lori and Robert at $50K for 20%
O'Dang Hummus Shark Tank Update
The Shark Tank Blog constantly provides updates and follow-ups about entrepreneurs who have appeared on the Shark Tank TV show. The deal with Lori and Robert never closed.  In 2018, he had a deal to be in 2000 Wal Mart locations, and the relationship continues. In 2020, they changed the name of the business to O'Dang Foods. As of August, 2021, this company is still in business. He hasn't gotten the distribution he hoped for, but he's in 70 retailers in greater New York city, 7 in Detroit and 13 in LA. He also added a line of hummus "mayo."
By November, 2022, the products were still in the aforementioned locations. Life time sales are $4.2 million at this time.
Posts About O'Dang Hummus on Shark Tank Blog
O'Dang Hummus Company Information
Video