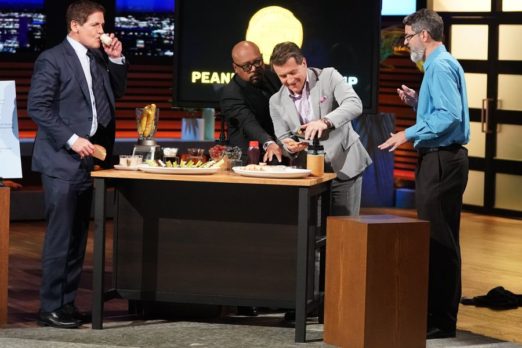 Andy Scherer seeks an investor for the Peanut Butter Pump, his kitchen gadget that "makes peanut butter better," in Shark Tank episode 1109. Scherer invented the product after losing his job in the financial services industry in 2016. He went home that day and made a peanut butter sandwich and realized there was a better way to dispense his favorite food.
Thus the Peanut Butter Pump was born. Scherer got the idea rolling with a successful IndieGoGo Campaign that raised $133,790 in April, 2019. To date, he has not delivered product. As of October, 2019, he hasn't even made the finished product yet. At that time, he was off to Taiwan to sign off on the final prototype and begin production on the finished units. He also has a second invention called the Nutternado that's in "Pre-order" status.
The pump itself is food grade plastic and silicon. It's designed to screw onto "most standard 40 oz jars, including the following brands*: Skippy, Jif, Kroger, Great Value (Walmart), Market Pantry (Target), and Kirkland (Costco).". As product is dispensed through either the stream or wide surface nozzle, the pumping mechanism actually scrapes the inside of the jar so there's no waste. Each pump of the oversized plunger dispenses about 3 tsp. By pumping peanut butter instead of spreading it, you don' mass up the bread. Now you can just pump it onto a piece of bread and enjoy. It even works on crunchy peanut butter! The whole unit comes apart for cleaning too.
Scherer is all in on this product. He says he'll even sell his house to get it off the ground. He needs a Shark's help with manufacturing and cash flow. Will a Shark "cover the spread" on this opportunity?
Company Information
Video

Posts about Peanut Butter Pump on Shark Tank Blog
The Peanut Butter Pump Pumps it Up
Peanut Butter Pump Shark Tank Recap
Andy enters seeking $200,000 for 15% of his business. He tells his story and hands out samples, but the Sharks are more amused than interested. Kevin proclaims himself a peanut butter connoisseur and brings up the debate about whether or not you should refrigerate peanut butter. Andy says this won't work with refrigerated peanut butter nor will it work with chunky peanut butter.
The Sharks express concern when Andy tells him he missed his delivery date for the IndieGoGo campaign and used some of the money for personal use. Daymond doesn't think it solves any problem; he's out. Lori and Robert agree with Daymond and they go out too. Kevin thinks the valuation is out of whack so he's out too. Mark goes out and thanks Andy for being a good sport.
Peanut Butter Pump Shark Tank Update
The Shark Tank Blog constantly provides updates and follow-ups about entrepreneurs who have appeared on the Shark Tank TV show. As of August, 2020 the product is still on "pre-order" status on the company website. On the site, it says "The estimated shipping date of this product is 3/15/2020." Andy has not delivered on the IndieGoGo orders either as of August, 2020.