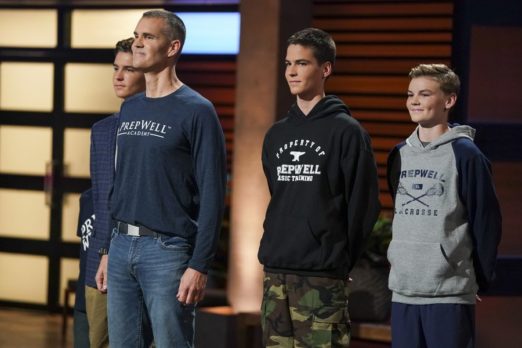 Phil Black returns to the Shark Tank in episode 1119 to pitch PrepWell, his college admissions preparation program for high school students. Phil originally appeared on Shark Tank back in season 5 when he pitched FitDeck, a set of fitness "playing cards" with different exercises on each card. He sold that business in October, 2014. This time, instead of physical fitness, he's selling mental fitness. For those who don't remember Phil, he's a Yale grad, a Harvard Business School grad and Navy Seal who also happens to be a father of four, an investment banker, personal trainer, firefighter, motivational speaker, AND entrepreneur! He got the idea for forming his online academy while guiding his own sons through college admissions.
PrepWell is Phil's latest business and it helps prepare "high-potential students for the competitive college admissions process when it matters most." Phil preaches preparation as a learned skill and PrepWell endeavors to teach that skill as it relates to the college admissions process. The online academy teaches kids what to do, when to do it and how to do it throughout their high school career as it relates to getting into college.
Teenagers generally don't look too far ahead and often don't listen to parental advice, so having Phil as a "virtual mentor" gets them doing the thing they need to do to be successful. The coursework and approach also teaches the lifelong skills of planning and preparation. The guidance focuses on getting into selective schools like the Ivy League, military academies (Phil's specialty) and even helps with students seeking athletic scholarships.
For $14.95 per month, both students and parents have access to all the online content. There are 3-5 minute lessons on advice, deadline reminders, life skills, inspiration, and projects.  The projects for seniors will sometimes take more than five minutes. For parents who aren't sure if this is for them, there is a free "college admissions snapshot" work sheet and tutorial video to help them decide. Phil likely wants a Shark's help with marketing the business and with seed money. Will a Shark want to enroll in this academy?
Company Information
Video

Posts about PrepWell on Shark Tank Blog
Prepwell Academy – College Admissions Guidance
PrepWell Shark Tank Recap
Phil enters seeking $100,000 for 20% of his company. The Sharks remember him and his impressive resume. Phil explains the business, and the Sharks are noticeably underwhelmed. They don't see how he can grow the business to be big enough to invest in. 
In a parting shot, Kevin says he'd welcome Phil back, but he'd better have a really good idea next time.
PrepWell Shark Tank Update
The Shark Tank Blog constantly provides updates and follow-ups about entrepreneurs who have appeared on the Shark Tank TV show. Phil continues to grow the business. His social media following is slowly growing and he continues with daily podcasts and emails to students. As of May, 2022, Phil continues to persevere. Annual revenues are between $900,000 and $1 million. In January, 2023, the podcasts stopped appearing on the company Facebook page.