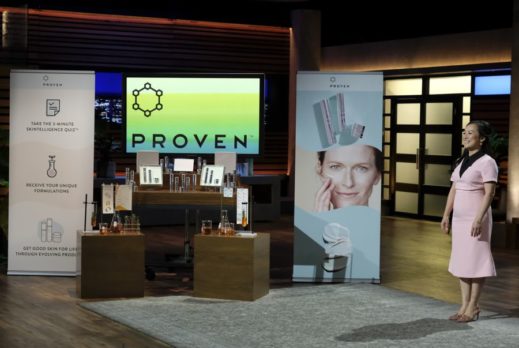 Ming Zhao hopes a Shark will put some skin in the game for Proven, her line of personalized skin care products, in Shark Tank episode 1114. Proven is a science and data based business that personally crafts a cleanser, day cream, and night cream for each customer's individual skin care needs. When you go to the website, you take a short quiz that "analyzes over 47 factors about you, your heritage, lifestyle and environment to customize your skincare."
What makes this analysis possible is the data crunching Zhao's business partner, Amy Yuan. Yuan has atopic dermatitis and a Post Doctorate degree in Computational Physics from Stanford University. This caused her to create the The Skin Genome Project: a database that analyzes the effectiveness of more than 20,238 skincare ingredients, 100,000 products, 8 million testimonials, and more than 4,000 scientific journal articles.
Using their quiz which asks about numerous factors including diet, location, age, skin type, and many others. The website crunches the numbers and come up with a specific formula for a cleanser, and day and night creams. The formula is specific to each customer – it's not on a shelf somewhere. Once you order (total cost for all three products is around $185), they mix up your formula and ship it. All products are made in the USA.
To date, there are 13 venture capital investors with "undisclosed" investments in this company. Zhao hopes to add a Shark to that list.
Company Information
Video

Posts about Proven on Shark Tank Blog
Proven Skincare – Custom Formulas
Proven Shark Tank Recap
Ming enters seeking $500,000 for 5% of the business. She explains how she crafts her skincare products and hands out custom products for each Shark. As of the taping date (September, 2019), the company was on track to generate $65,000 a month in sales. They were on track to do about $3 million for the year. They also licensed their technology to a baby skin care company for $3.5 million.
Ming revealed she spent $90,000 in Facebook advertising over the previous two months to generate $110,000 in sales. This prompted Kevin to question the marketing costs in a highly competitive market. The other Sharks share this sentiment and say there are similar companies out there. All five Sharks go out.
Proven Shark Tank Update
The Shark Tank Blog constantly provides updates and follow-ups about entrepreneurs who have appeared on the Shark Tank TV show. Even though she didn't get a deal, the episode drove sales. They ended up with over $3 million in sales for 2019 and 2020 was off to a strong start. April, 2020 sales were over 60% higher than the previous month and more brand awareness allowed the company to slash advertising costs. Fully one third of the business is repeat customers and Ming states that is growing too.
In March, 2021, the company was chosen to be on a new Entrepreneur.com streaming series called Going Public. It features companies and their efforts to raise money. Instead of Sharks, there are mentors who guide the entrepreneurs. Instead of Sharks investing, viewers will be allowed to invest in the companies featured on the show.
The company took things a step further by allowing the public to invest in the company directly from their website in 2022. As of July, 2022, the company has lifetime revenue of over $37 million. By August, 2023, Ming says she has over 100,000 regular subscribers earning the business $24 million in annual revenue. She says she'd like to expand her line to include haircare, vitamins, and baby care items.