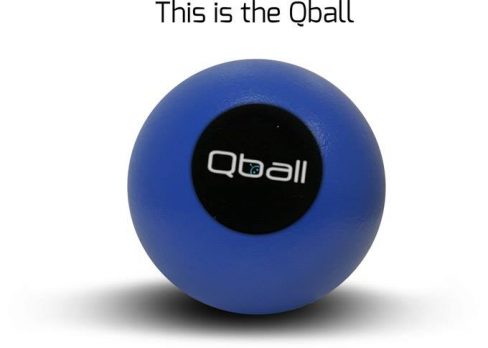 Shane Cox wants a Shark to drop the mic and invest in QBall, his wireless microphone you can throw, in Shark Tank episode 904. QBall is simply a wireless microphone inside a foam ball. You can throw it around the room, making it great for meetings, Q&A sessions at presentations, and even the classroom. The novelty of a microphone inside a ball makes it fun to engage and interact, no matter what the situation.
Cox, along with two others, got the QBall funded with $46,895 from a successful IndieGoGo campaign back in October 2015. They had myriad production issues and didn't begin shipping to backers until early 2017. Some backers didn't have product until mid 2017.
They now have the Q Ball in stock and ready for shipping. Each system costs $179. It includes a battery with ten hours of life and it has a range of about 75 feet from the signal source. One neat feature is "quiet toss." This shuts the mic off when the QBall senses it's in motion, which prevents static noise while it's being thrown. Despite initial issues with shipping, there are mostly positive reviews.
Shane likely wants a Shark's help navigation the ins and outs of overseas production. Will a Shark toss him some cash?
QBall Company Information
Video

Posts about QBall on Shark Tank Blog
QBall Shark Tank Recap
Shane enters seeking $200,000 for 15% of his business. He explains the product and gives his pitch. When it's over, he tosses the Q Ball to Mark who talks into it. Lori wants to try it and Shane says Mark has the only working model, so he tosses her a "blank."
They cost $52 to make and they sell for $179. He's sold $177,000 to date – 90% of those to schools. He has a patent pending on the technology that lets the Q Ball know when it's being thrown. He says he'll be at $650,000 by the end of the year (2017). He says once one teacher in a school tries it, they'll order more. He wants an investment to buy inventory because he keeps running out.
Robert says he doesn't like selling to schools and government entities because the process takes too long; he's out. The Sharks think selling to corporations would be easier. Rohan, Lori and Mark huddle up an offer $$300,000 for 30%. Shane counters with 25% and Mark says no. Ultimately, Shane takes their offer.
QBall Shark Tank Update
The Shark Tank Blog constantly provides updates and follow-ups about entrepreneurs who have appeared on the Shark Tank TV show. The deal with Lori, Rohan and Mark did close. Soon after, they integrated with Alexa. In the two years following the initial air date, the company did $3.9 million in sales. As of December, 2022, they are still in business doing $1 million in annual revenue.