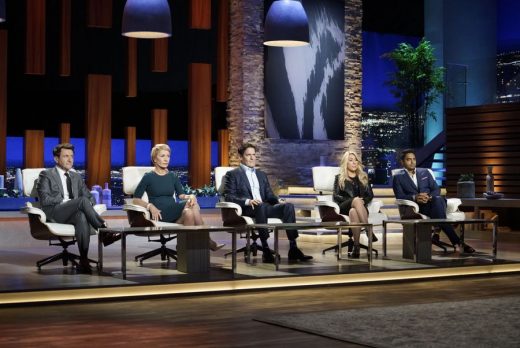 Episode 904 is second season 9 premier episode and once again features Mark in the center seat in place of Mr. Wonderful. Rohan Oza, millionaire founder of Vitamin Water and other successful consumer brands, is a guest Shark in this episode. Oza, along with Lori, Barbara, Mark and Robert evaluates four new businesses seeking an investment from one of the Sharks.
Christian Schauf and Mike Escamilla want a Shark to help their business, The Seventy2 Survival System, survive. Colgate basketball player and entrepreneur Ryan Diew wants a Shark's help navigating the app business when he pitches Trippie, an airport navigation app. Megan and Scott Reamer want a Shark to chip in and help them with Jackson's Honest, their organic potato chip and tortilla company. Shane Cox throws QBall, a wireless microphone inside a foam ball, at the Sharks and hopes they catch onto the idea.
Which business(es) leaves the Tank with a Shark as a partner?
Entrepreneurs
---
Update Segment – Profile on Rohan Oza
Rohan Oza is commonly known as "Hollywood's Brandfather." Born to a poor family in India, he came to the USA and became an extremely successful entrepreneur. Tonight's update segment profiles his journey from humble beginnings to multi-millionaire.
There are 28 Shark Tank Episodes for Season 9. This season features more appearances by "guest Sharks," including billionaire Sir Richard Branson. The 200th episode also airs this season. Casting is currently closed, but it never hurts to get a head start on season ten! If you would like to appear on the show, check out our Auditions and Casting information.
Episode 904 – The Shark Investors and Entrepreneurs
The Shark Tank Episode 904 entrepreneurs will make their best pitch to the panel of five Shark investors who will use their own money if they choose to invest. The Shark Investors negotiate on the spot without any previous information, which differs from typical negotiations between venture capital investors and entrepreneurial start-ups.
Companies pitching the Shark Investors must go through a rigorous due diligence process before an on-air deal is completed. Shark Tank Blog follow ups help you keep track of the companies that end up successful and the ones that don't complete their deal.
Thank you for reading SharkTankBlog, the number one site for Entrepreneurs, Investors and Fans. Our content updates multiple times day, giving you the latest information on Episode 904, Season 9, and all other seasons and episodes.
Episode 904 Press Release
Episode 904:
Entrepreneurs from Park City, Utah, and Burbank, California, have the ultimate survival kits to help get through the first 72 hours of an emergency; parents from Crested Butte, Colorado, were inspired by their son's rare illness to create a thriving business that is disrupting the snack chip industry; an entrepreneur from Cary, North Carolina, has a unique way to engage kids with a wireless microphone that you can throw; and a recent college graduate from Hamilton, New York, designed an app that takes the guesswork and turbulence out of navigating big airports.
Also, a profile on serial investor Rohan Oza, dubbed "Hollywood's Brandfather" by the Hollywood Reporter and the mastermind behind some of the most iconic brands in the consumer space today. Born and raised in Zambia and of Indian descent, the profile highlights his humble but proud road to entrepreneurial success.
The Sharks in this episode are Mark Cuban, Barbara Corcoran, Lori Greiner, Robert Herjavec and Rohan Oza.