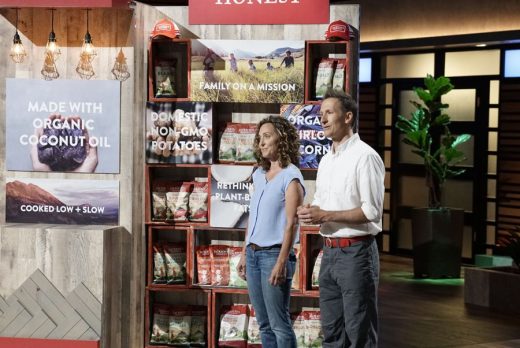 Megan and Scott Reamer seek a Shark to partner with them in Jackson's Honest, their all natural potato and tortilla chips, in Shark Tank episode 904. They came into the business out of deep concern for their son, Jackson. He suffered reduced motor skills and pancreatitis at a young age. On his third birthday, he weighed just 17 pounds and could hardly function. He was near death when his mom, Megan, discovered a cookbook that had recipes for a high (good) fat diet.
When they  began feeding him this diet, he gained weight and his pancreatitis disappeared! At age 14, the Reamers found Jackson suffered from Aicardi–Goutières syndrome (AGS),an immune disorder that causes a chronic inflammatory condition in parts of the brain. A high fat diet disrupts "the inflammatory process of insulin and leptin production/use in the body." In short, a high fat diet saved his life. Sadly, Jackson passed away in 2017 from complications of his rare disease.
Fat Stuff
As a result of their experiences, the entire family embraced a high fat diet. They began experimenting with making their own potato chips fried in coconut oil as a snack food and loved the taste. Of course, people told them "you should sell these!" They sell their chips not as a business, but as a "movement." The gigantic snack food industry uses polyunsaturated vegetable oils in their chips and tortillas. While inexpensive, these are considered "bad" fats. Research indicates traditional fats like lard, tallow, and coconut oil are a component of a healthy diet. Their company mission statement says it all:
"Our goal is to make clean, simple products with as much of these nutrient-dense fats as we can in a great tasting and convenient form while spreading the word that ancestral fats are a critically important part of a balanced diet."
Jackson's Honest uses non-GMO potatoes, organic corn, real salt from an ancient sea bed in Central Utah, and coconut oil. That's it. They developed a proprietary process for frying in coconut oil that retains all the health benefits of both the coconut oil and the potatoes and corn. The sea salt has over 60 trace minerals in it too. These are probably the healthiest chips you can eat.
The chips come in several flavors: barbecue, purple heirloom, red heirloom, sea salt, sea salt and vinegar, and sweet potato. The tortilla flavors are: blue corn, yellow corn, sprouted red corn, maple cinnamon, lime and sea salt, and salsa fresca. On the website, the chips cost $23.94 for six 5 ounce bags and the tortillas cost $44.94 for nine 10 ounce bags. They also sell in Whole Foods, Publix, Wegman's, Earth Fare, Heinen's, and many other supermarkets large and small.
The Reamers likely want a Shark to help gain wider distribution. Will a Shark want to snack on these chips?
Jackson's Honest Company Information
Video

Posts about Jackson's Honest on Shark Tank Blog
Jackson's Honest Shark Tank Recap
Megan and Scott enter seeking $1.25 million for 5% of their chip business. They tell their story, then hand out samples to the  Sharks. The Sharks like them and start munching away. After some discussion about the couple's background, Rohan wants to get to the numbers and he wants to know how they came to a $25 million valuation.
The company did $10.1 million in sales in 2016. Even with those numbers, they are not profitable because they are paying for shelf space. They claim they'll be profitable next year (2018). The couple has raised $3 million from family and friends and they own two thirds of the company. Sales for the current year are at $13-$14 million.
Robert is the first Shark out stating it's too risky for him. Lori prefers baked chips; she's out. Mark doesn't see the margins growing; he's out. Barbara says grocery stores "eat businesses alive;" she's out. Rohan offers $1.25 million for 20% and after a lot of back and forth counter offers, they settle on 15% equity and do the deal.
Jackson's Honest Shark Tank Update
The Shark Tank Blog constantly provides updates and follow-ups about entrepreneurs who have appeared on the Shark Tank TV show. The deal with Rohan did close. Sadly, about three months before their episode aired, their son Jackson passed away. "His legacy will live on in the company his struggle founded," said his father. "And that's as strong a salve as can be applied to our absolutely broken hearts."
In 2018, the company rebranded to Jackson's—the Super Snack and they introduced grain free puffs. They also introduced Japanese heirloom sweet potato chips. In 2019, they started distributing to food service providers. In August, 2021, they opened their own production facility in Muskego, Wisconsin which produces 110 bags of chips per minute. As of September, 2022, they are in every Whole Foods and have annual revenue of over $16 million. At this point, they focused on making just their sweet potatoe chips with coconut oil. The rest of their line is now made with avocado oil.
The family moved to Crested Butte, CO in late 2021 and started a program called "Everyday Heroes" which "showcases kids who are making a difference in their own lives and in other people's lives." As of August, 2023, they are in every Whole Foods and have over 25 different flavors. At this time, annual revenue is over $16 million.
****Editor's note: I buy these regularly because they are SO GOOD!****