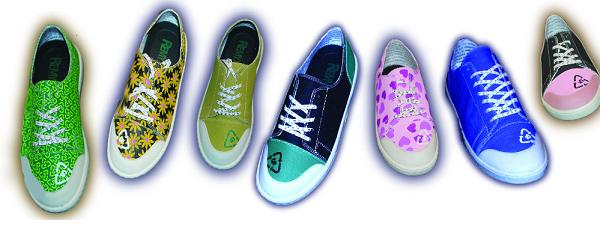 Episode 312 brings the Sharks a new twist on footwear: Gary Gagnon brings his Remyxx sneakers to the investors, in hopes of kicking off a new trend. Gagnon got the idea after seeing worn-out footwear tossed in the trash. He was inspired to create sneakers that are 100% recyclable, true "landfill free sneakers." To compete in the very crowded market, the sneakers had to be durable, comfortable, and stylish.
With only three weeks of marketing under his belt, but a Kickstarter campaign and a shell website set up in anticipation of the Shark Tank Effect – the phenomena in which Shark Tank products endure an overwhelming number of web site visitors after appearing on the show, Gagnon's unconventional marketing strategy may just be enough to win him a Shark deal.
ReMyxx Shark Tank Recap
Gagnon comes to the Shark Tank seeking a $50,000 investment in return for 10% equity in ReMyxx. He gives a clever presentation, and asks the Sharks to be "a pioneer," by joining "on the ground floor, to make an impact on how we think about sneakers and green living."
Kevin O'Leary is more interested in the green that's in his pocket. He wants to know about sales. Gagnon has no sales to date, but he has only been in business for 3 weeks.
Gagnon tells the Sharks that he intends to manufacture and distribute his sneakers to the wholesale market. He believes that the special nature of his sneakers is enough to set him apart. Herjavec wants to know about the process of recycling the sneakers. Since the recycling processors don't know about ReMyxx yet, Gagnon offers a perk with his sales- eco-conscious customers can mail back the sneakers for guaranteed recycling.
Daymond John wants to know about Gagnon's motivation. Gagnon responds that his goal is to build his niche with fashion, with the end goal of creating a change in the recycling market.
Kevin O'Leary wants to know about proprietary processes and patents. At this time, Gagnon doesn't hold a patent on his shoes, which is a real problem for the Sharks. Proprietary information, processes, or materials are an important tool in protecting a new product's space in the market. Without any proprietary process, ReMyxx doesn't stand much of a chance against the "Big Four" shoe companies.
Who's in?
Herjavec doesn't believe Gagnon has asked for enough. The $50,000 doesn't give him enough of a financial cushion to get the business off the ground. "If you're successful," he  says, "You'll go bankrupt." He's out.
O'Leary tells Gagnon to "burn" the sneakers to keep himself warm through the winter. He's out.
Mark Cuban is out because of Gagnon's small investment request. Barbara Corcoran doesn't find his product unique enough. She's out. Only Daymond John remains.
Daymond John likes "this recycle idea," but "unfortunately, the offer I would have to give you, you really would have to be crazy." He's willing to offer the $50,000, but he wants 80% of the company. Gagnon counters, asking for $100,000 for 50%. John responds that he'll license the product out or bankroll the product.
Gagnon counters once more, asking for 50% in return for $50,000. John refuses to haggle. In the end, Gagnon accepts the offer.
ReMyxx Shark Tank Update
Although Gagnon got a Shark deal on camera, as often happens, the deal didn't hold up. Even though John and Gagnon weren't able to sign a deal, Gagnon reveals that John offered him advice and support along the way. His initial Kickstarter campaign resulted in over $40,000 in sales, and the website and social media pages are still active. Gagdon continues to work his day job in corporate sales, while running the ReMyxx, now named "ReKixx" on a part-time basis. Business is growing slowly but steadily. Even without a Shark Tank deal, these sneakers are turning green.
Despite high hopes, the company closed its doors in 2017.
Posts about ReMyxx on Shark Tank Blog
Gary Gagnon Remyxx Founder Interview
Remyxx Recycled Sneakers Using Shark Tank Publicity Wisely
ReMyxx Company Information