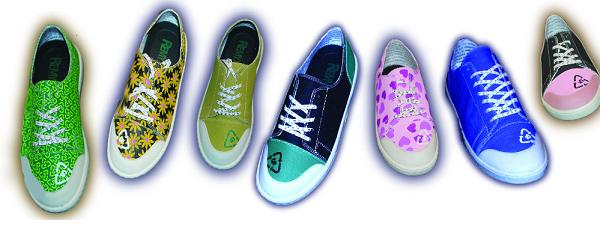 Gary Gagnon, a former vice principal turned would be sneaker tycoon, is the founder of Remyxx, the 100% recycled sneakers seen on the season finale of Shark Tank. I spoke with Gary recently to get his feedback on his appearance and an update on Remyxx's progress. Gary made a deal with Daymond John who offered $50K for 80 percent of the business.
During Gary and Daymond's first conversation after taping, Daymond took the deal off the table. "He said he wasn't going to steal my business," said Gagnon, "but he's been advising me. Daymond's a strong resource and he's offered to help me close deals or fulfill a big order. He has 'right of first refusal' going forward, but I need to work on establishing the brand."
Gary has had to wrestle with how to get his business funded and is the first Shark Tank entrepreneur to use Kickstarter in conjunction with his segment airing. As of the date of this post, he's a little over $1,000 away from his funding goal. "Neither Daymond nor I wanted to be in the 'inventory business," Gary explained, "retailers buy shoes a season ahead of time, so the inventory decision needed to be made back in December [of 2011]. It's more important to establish the brand."'
The Kickstarter program is helping him do that. The funding site raised $20K  after Remyxx appeared on Shark Tank and Gary says his webpage got in the neighborhood of 36,000 views on show night. He explained that Kickstarter is a "pre-order program, so we're actually selling sneakers. It's going to help fund the first run of production." Remyxx sneakers will be in stores in October. "We're going with small-scale distribution in 20-40 stores, mostly mom and pop retailers. I have reps calling on the big box stores, but we won't have product samples for sales kits until October."
For now, Gary is keeping his day job as a manufacturer's rep and business consultant until Remyxx gets into stores. "I need to keep funding the business. When we go in stores, we'll use the cash to re-order product. We have some other interested investors, but we need more customers. The best business plan is a customer!"
Gagnon spent about 50 minutes with the Sharks and feels the broadcast treated him fairly. "I spent 20 minutes negotiating with Mark  Cuban and Daymond. They cut some stuff, but it was accurate." They cut what Gary thought was a funny moment. "Kevin O'Leary had just delivered a 'zinger,' and I said to him 'your jokes are funny only when they come with money.' Daymond said he liked me better after I said that!"
Gary is a fan of the show and he does read this site. "I liked your site a lot more after you called me a genius," he joked. He met Fleetwood Hicks from Villy Customs in Dallas during a casting call, "I love the bikes. I bought one and made it a Remyxx branded bike." He also confessed he thought James Martin from Copa Di Vino should have taken the deal. "They could have split the difference." Gary thought My Wonderful Life should have been funded too. "Their model is interesting and they were looking for small money. It was right in the tech guys' wheel house."
Just like the rest of us, Gary will be watching re-runs of Shark Tank all summer. He's hoping to be featured as a success story on a future follow-up segment. For now, he's hoping to wind down the Remyxx Kickstarter Campaign successfully. "We're using Kickstarter to fund the business, but that's also how you order product now. Once we get into stores, we'll have an online shopping cart on the Remyxx website so people can order direct." It looks like Gary will get his Kickstarter funding, so we should start seeing Remyxx sneakers on people's feet next fall.
We're rooting for Gary and Remyxx to succeed and, from the looks of the recycled sneaker company's progress so far, it's not a stretch to think we'll see Gary on that follow up segment.
Before I hung up with Gary, I asked him "the question." See his answer at The Hot Dog Truck.