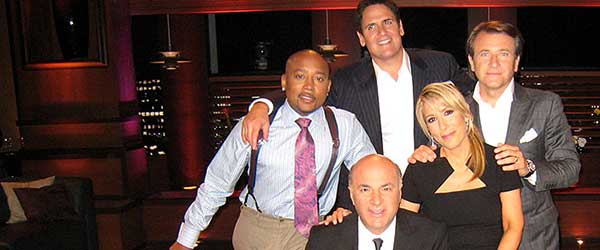 Shark Tank on Friday, June 22 is a re-run of an episode originally aired on February 10, 2012. This was Lori Greiner's debut episode. The other Sharks appearing are Mark Cuban, Robert Herjavec, Daymond John and Kevin O'Leary. Lori wasted no time making her presence known during her first swim in the Shark Tank- in fact she made Shark Tank history by cutting a check live, on the spot.
First up is Ivory Tenelle with The Swilt, a hooded sweatshirt that unfolds into a blanket for those chilly mornings watching youth sports. I actually thought this was a nifty product (having spent over 300 chilly mornings at various youth soccer venues), but the Sharks did not bite. They were a bit harsh on Ivory, likening The Swilt to a reworked Snuggy.
Next up was one of my favorite entrepreneurs from season three, Shelly Ehler and her Show No Towel. Shelly sent a few of these to me to try and they are a great beach towel! Lori Greiner thought so too and took on Shelly as a business partner on the spot! The Show No Towel was one of season three's early success stories and Shelly was featured in a follow up segment a few months later.
Puppy Cake and founder Kelly Chaney were next. Puppy Cake is a cake mix made especially for dogs. It seems pet related businesses don't fare well on Shark Tank and I am not sure why; pet owners spend billions of dollars every year. While Puppy Cake had sales and was growing, the Sharks thought the product was too much of a novelty in too narrow of a niche to be profitable.
Last up was Eric Corti and his Wine Balloon. The Wine Balloon preserves an opened bottle of wine better than anything on the market. This was one of the most frustrating negotiations of season three as Corti watched as Mark Cuban and Lori Greiner gutted their initial offer while he hesitated. He made a deal in the Shark Tank, but it never went through after the show taped. Mr. Corti apparently isn't one to sit around waiting for something to happen, he recently appeared on Food Network's Kitchen Inventors with his wine balloon and he got a deal there too!
The follow up segment features Notehall, a service that buys and sells college study notes. Entrepreneurs and founders DJ Stephan and Sean Conway sold their company for big bucks after they originally aired. Tune in to see how much these two young entrepreneurs made from the sale.