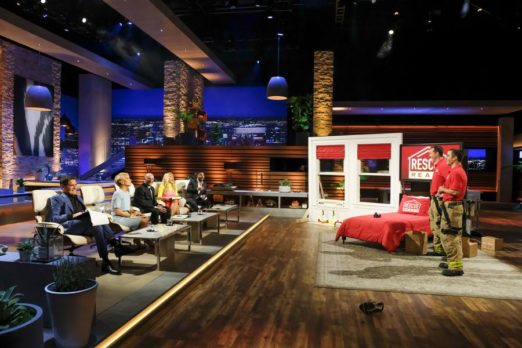 Eric Hartsfield and Brett Russel seek a Shark to invest in Rescue Ready, their fire escape ladder system, in Shark Tank episode 1124. Both men are firefighters in Norfolk, Virginia. Their product is a rescue ladder that is permanently attached to a window sill. The ladder is made out of canvas rope so it can coil up out of site.
Both men attended the College of Business at James Madison University, but they didn't meet until they were put in the same fire department. They both specialize in technical rescue: rope rescue, confined space rescue, vehicle extrication, and structure fires. Brett also owns a landscape company and Eric installs windows. His knowledge of installing windows is just as vital to the company as his background as a fire fighter.
As firefighters, the guys know over 2,500 people die from house fires each year. Most fatalities occur near windows or doors where people get overcome and die trying to escape. With a Rescue Ready Ladder installed, an occupant can have the ladder deployed and ready to use in around thirty seconds. The ladders are pre-rigged and structurally attached so they are truly ready to go. Even in homes with escape ladders, precious time is lost looking for the ladder (in a closet, under a bed).
As of now, they are in the very beginning stages of their business. On their website, they say they are looking for "an established window manufacturer, to partner with, that shares our passion for building life-saving products." They're also hoping a Shark can help them bring their life-saving product to market.
Company Information
Video

Posts about Rescue Ready on Shark Tank Blog
RescueReady – Fire Escape Ladder
Rescue Ready Shark Tank Recap
Eric and Brett enter seeking $75,000 for 15% of their business. The company is a true start-up as they have no sales yet. The Sharks really like the two firefighters and Lori says she has a soft spot for first responders. Unfortunately, the Sharks feel window manufacturers won't warm to the idea and they all go out.
Rescue Ready Shark Tank Update
The Shark Tank Blog constantly provides updates and follow-ups about entrepreneurs who have appeared on the Shark Tank TV show. After the show aired, the guys launched a Kickstarter that was unsuccessful and closed on June 26, 2020. As of July, 2020 the company website is still live and they continue to reach out to window manufacturers. They are also selling the Rescue Ready Retrofit which conceals the ladder mechanism with a simple, decorative cover that looks like the window trim. Covid-19 slowed shipping on this product and this statement appears on their website on July 1, 2021:
Unfortunately, we will not be shipping by the end of 2020 as anticipated. Due to factors outside of our control, specifically COVID-19 and the wildfires in Southern California, our production has been pushed back. Our new and realistic goal is now July 1, 2021. Please accept our sincere apology to those of you waiting on orders. We are very optimistic about the New Year and look forward to making all of your homes Rescue Ready as soon as possible. Be safe and stay healthy!
As of January, 2022, the products are available from the company website. In March, 2022, supply chain issues continue to hamper their ability to ship product. This statement appeared on their website:
Production Update: 3/28/22
We have begun shipping ladders out but are currently backordered. We have continued to encounter manufacturing delays. That being said, we have had customers express the interest of having the ladder and hardware shipped to them, without the plastics. This gives them the option of having a functional ladder in place. We have decided to do that for all customers so that they have a ladder while we wait for the completion of the plastics. We realize that this is inconvenient to wait for the second shipment containing the plastics, but we are working hard to fulfill all orders. We are almost caught up on getting all of our current customers their RetroFit ladders. We have also had interest expressed for a wood cover. We are currently fabricating covers out of wood and will be posting pictures so that you can decide if you prefer this option. The wood option will be a free change to all existing customers since the plastics are what is delayed. The wood cover will be made to the custom width for each customer. Please accept our sincere apology to those of you waiting on orders, and we are so appreciative of the patience you all have shown.