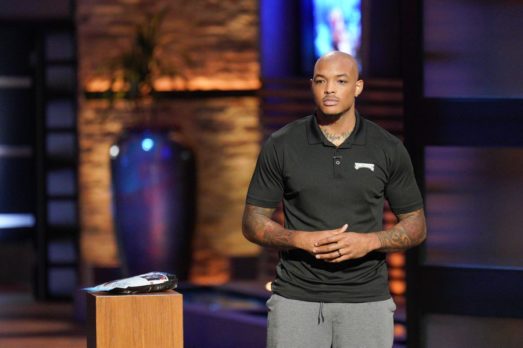 Kalaii Griffin II hopes to seal a deal for ShredSkinz, his disposable and recyclable sauna suits, in Shark Tank episode 1406. The former Division 1 football player at The University of Texas El Paso started the business in October, 2020. As a division one athlete, he keeps himself in pretty good shape. He's currently employed a a business development rep at Rapid7, a network security business.
Sauna suits like ShredSkinz trap body heat. Advocates of this type of workout wear say the suits help you lose extra pounds, gain muscle, and sweat off water weight. Research shows it works because your sweat is more diluted and it increases your post work out metabolic activity. People with heart disease and diabetes and some other health issues should avoid sauna suits.
For sanitary reasons, the ShredSkinz sauna suits are disposable. Other sauna suits on the market are not disposable and require frequent cleaning. They get pretty gross and smelly too. A 5 pack costs $25.99 and you can get 20% off if you do a monthly subscription. Kalaii is likely looking for a Shark to help him get broad distribution.
Company Information
Video

Posts about ShredSkinz on Shark Tank Blog
ShredSkinz Shark Tank Recap
Kalaii enters the Shark Tank seeking $60,000 for 20% equity in his business. He says there are two good things about a good workout: being sore the next morning and being covered head to toe in your own sweat. With the current sauna suits on the market, if you don't clean them well, you'll irritate your skin really bad. He says to Mark "you gotta know what I'm talking about" and Mark replies "I sweat when I think about it." Kalaii says the only other option is a trash bag.
ShredSkinz is the only single use sauna suit on the market and they use eco-friendly plastic. There are elastics around the wrists and waist and a drawstring on the hood to maximize sweating. He dumps some sweat out of the ShredSkin he's wearing, then shows video clips of people dumping copious amounts of sweat out of their suits. The Sharks are grossed out. The suits are made of a plastic with a special resin that helps them break down faster.
The Sharks examine their samples. Lori asks about the target market and Kalaii says it's women because they carry a lot of water weight. Other markets include athletes and fighter. Fighters need it to make weight. He didn't invent the sauna suit, he just made it more convenient. Mark says you're more ripped if you sweat a lot. Kalaii doesn't promote it as a "get skinny fast" product, he promotes it as an option to help shed water weight. Daniel likes that Kalaii is under selling it. He got his first customers by blowing up on Tik Tok: one video has 17 million views; he averages about 1 million views a week.
He started in October, 2020 and finished the year with $15,000 in sales. In 2021 he did $190,000 in sales. Year to date (summer, 2022) he's  over $100,000 and he's projecting $250,000 for the year. Last month, he did $23,000 in sales with $5000 in profits.
Who Is Kalaii?
The Sharks want to hear his background. He's an ex college football player from UTEP and he broke his arm his senior year. He's also a dad. For the last four years, he was training with the hopes of getting into the NFL and he was embarrassed to leave the house in a trash bag. When he googled "single use sauna suit," there weren't any, so he told his wife he was going to start a business called Sweat Skins and she said no. He's been grinding to get his family in the same houde, his wife and child live with his mother in law and he's been staying with friends.
Kalaii has debt. He owes his partner $25,000 and the partner owns 25%of the business. They also have a $100,000 loan. The reason his family doesn't live with him is he works in Boston and it's too expensive. His family lives in South Carolina. When Kalaii was 13, he lost both his parents. He found a way through football to get a scholarship  and he had a little brother he had to take care of. While getting a little choked up, he says he can't fold because he has a son – he has to make him proud like his dad made him proud. He starts tearing up and says he wants to pass this down to his son one day.
Kalaii has about $35,000 worth of inventory. The cost is $4.17 per five pack and they sell them for $19.99. To get to 55 cents, he needs to order 10,000 5 packs. Kevin says he doesn't like being the second investor, he's out. Kalaii says he's never had a problem selling inventory. He only sells direct to consumer. Lori says there's tons of merit to what he's done, but she doesn't think the product is the right fit for her, she's out. Daniel loves Kalaii because he's so honest. He offers $60,000 for 20% and says he'll do his best to give him a hand. After a break, Mark interjects and asks if he could send the products without the packaging. Mark offers $60,000 for 20%. Daymond says Kalaii should consider the offers on the table. After thanking the Sharks, he accepts Mark's offer.
ShredSkinz Shark Tank Update
The Shark Tank Blog constantly provides updates and follow-ups about entrepreneurs who have appeared on the Shark Tank TV show. Kalaii's LinkedIn page indicates he completely sold out of inventory on show night.  On show night, Daniel Lubetzky Tweeted:
"How could you NOT want to partner with Kalei and
@ShredSkinz? This guy is so honest and has tons of grit, which are some of the foremost qualities I look for in an entrepreneur. #SharkTank"
The first rerun of this episode occurs in February, 2023, less than two months after the original air date. At this time, there is no evidence the deal with Mark closed, but Kalaii did relocate to Austin, Texas. He is still employed at Rapid7 and has been promoted to Senior Business Development Rep. As of July, 2023, the deal still has not closed with Mark.
The Shark Tank Blog will follow-up on ShredSkinz & Kalaii Griffin II as more details become available.