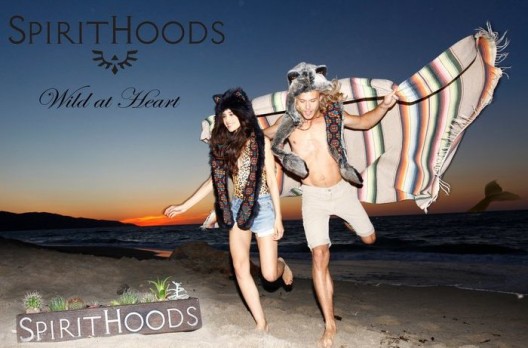 Chase Hamilton, Alexander Mendeluk, Marley Marotta and Ashley Haber bring SpiritHoods, their wildly successful brand and line of faux fur hats and accessories, to the Shark Tank in episode 513. They wanted to bring "the spirit of the wild" to their line without using real animal fur or harming animals in any way. In fact, 10% of every purchase goes to protecting endangered species through a variety of conservation groups.
The four young entrepreneurs founded Spirit Hoods in 2010. They built the brand with guerilla marketing, strategic celebrity endorsements, and a "hipster" attitude that spawned thousands of fans and customers. They've mastered social media and email marketing and they bring their funky faux fur hats to all kinds of music festivals to keep the hype, and the brand, rolling. In 2013 they introduced washable speakers embedded in some of their hats to combine headphones and fashion.
SpiritHoods is a relatively successful business that's likely looking to the Sharks for help with a "strategic partnership" and big box distribution.
SpiritHoods Shark Tank Recap
Alexander and Chase come into the Shark Tank seeking an investment of $450,000 in return for a 15% stake in their company. They give a brief presentation, discussing the idea behind SpiritHoods, a community-based following driven by self expression and a desire to protect the environment. The hats feature "sleeves" that can be used as a scarf, paw-shaped pockets for the hands, and even a hidden pouch that contains machine-washable speakers designed to play  music from a smartphone or iPod.
Each Shark receives their own SpiritHood. Mark Cuban is notably left out, until the pair have a model spring out, wearing a wild SpiritHood in the Maverick's team colors. They explain that they're launching a line of "fanimal" SpiritHoods, a team spirit line in sports teams' colors.
Robert Herjavec doubts adults will wear the SpiritHoods, but Kevin O'Leary is less concerned with fashion than with finance. "I don't care who wears them," he says, "What are your sales?" $9.8 million in sales is enough to raise the Sharks' eyebrows and bring Spirit Hoods up a few notches in their desirability. The hats are being carried in Harrods, Zappos, and Nordstroms online.
At an average $3 million profit a year, the SpiritHoods are selling well, but in the last year they lost $500,000 because they tried to expand too quickly. They want the investment to begin to build again, but more slowly, having learned from their mistakes.
Who's In?
Kevin O'Leary sees the drop in sales from $4.5 million in their best year to a $3 million steady sales as "too risky." he doesn't believe the market is sustainable, and he's out. Robert Herjavec invested in a similar company, and says they were "hot" for about two years, before the market crashed. He agrees with O'Leary and goes out. Barbara Corcoran "likes to invest in businesses that are rising not falling." Like O'Leary, she worries about the drop from their high selling year. She's out. Mark Cuban believes their price point, at $99, is too high for the average sports fan. He's out.
Daymond John is the last Shark standing. He's willing to make an offer, but his vision is to license the SpiritHoods out, and he wants 50% of the company. He believes that the brand needs to expand beyond hats to survive.
After a brief consultation, they make a counter offer of 22% and a royalty on any licensing. John refuses to negotiate, saying he's already having "buyer's remorse." He's out, and the pair leave the Shark Tank with no deal.
SpiritHoods Shark Tank Update
Although SpiritHoods didn't get a Shark deal, they walked away with their company, and their dignity intact. Alexander said in a later interview that walking away from John's aggressive deal actually helped boost the brand, because the fans saw it as "not selling out."
The brand continues to expand and grow, linking with other like-minded brands and reaching out into other outerwear styles to offer their customers a greater variety of choices. This is one brand that is proving itself king of the fashion industry jungle.
They added to their line. The company now sells robes, leggings, blankets, coats and more. Amazon has several knock off brands on their site. As a result, the company has reduced its presence there. As of September, 2022, annual revenue is $5 million.
Posts About SpiritHoods on Shark Tank Blog
SpiritHoods Information
Video