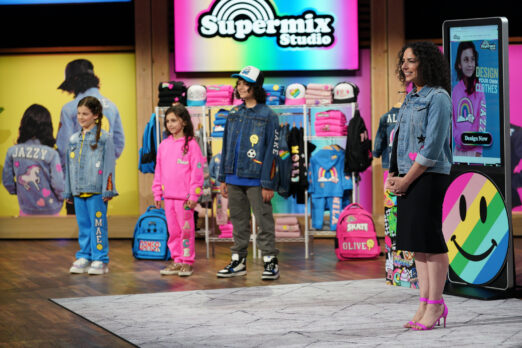 Jennifer Stein-Bischoff hopes to find a fit for Supermix Studio, her interactive website that lets kids design their own clothes, in Shark Tank episode 1507. Bischoff had an impressive 20+ years in the fashion industry in Miami and New York, workinng with some of the biggest brands and many celebrities. She's been fascinated by fashion since she was a little girl as she always decorated her clothing to reflect her personal sense of style.
Now, with Supermix Studio, any kid can decorated their own clothing. As Jennifer got older and had kids, she loved creating customized clothing with them and wanted a way to share that activity with kids everywhere. Her website lets kids design their own denim jackets, hoodies, sweatpants and backpacks. It's a sustainable business: she uses BCI cotton in her clothing, 100% recycled polyester in her backpacks and her packaging is made with recovered trash and printed using algae ink.
The way it works is pretty straightforward. Using either a tablet or coputer (sorry no phones) select a style. Next, customize it with the over 500 patches in her patch library. You can put your name or any kind of patch you want on your clothes. Once you're done, pay and wait for your creation to arrive in the mail. Prices range from $45 to $69 depending on the clothing (or backpack) style chosen. Each style comes with 200 "patch points." Additional patch points range fro $2 for 5 to $30 for 250 points. Jennifer likely wants a Shark's help with digital marketing.
Company Information
Video

Posts about Supermix Studio on Shark Tank Blog
Super Mix Studio: Where Creativity Meets Fashion
Supermix Studio Shark Tank Recap
Jennifer enters the Shark Tank seeking $250,000 in exchange for 10% in her company. As a mom, she's witnessed the self esteem boost kids get when they pick out their own outfit. As a designer, she wanted to create something that would let kids design something that's a true reflection of what they are. Supermix Studio is the world's first kids custom clothing brand. Her innovative platform lets kids celebrate their individuality by designing their own clothes. If a video game and a clothing brand had a baby, it would be Supermix Studio. Users can use the platform to create something that's 100% original. She shows off some of the clothes.
It's really all about the design experience. First, choose a style from sweats to denim jackets to backpacks and accessories all made of sustainable materials. Next click "customize now." There are over 500 premium patches to choose from. Drag and drop the patches anywhere you want on the clothing – the front, back, sleeves and even the hood. Lastly, the company makes the product. The kids won't want to take their Supermix off – that's the magic.
Q&A
The Sharks examine their samples which are personalized for them. The Sharks like them. Robert has a denim jacket with super sized patches – there are over 30 super sized patches. A denim jacket is $69 and they have a $15-$20 upsell with additional patches. The denim jacket costs $13.75 and retails for $$69; the margins on denim are in "the high seventies." A sweatshirt costs $7.05 and retails for $55. Jennifer manufactures the patches herself and they are 100% proprietary artwork.
Jennifer was in design for 20 years and is responsible for billions of dollars in sales. Her first big job was with Gloria Vanderbilt where she launched their first ever junior brand. She drove $100 million in sales there. At Tommy Hilfinger hired her to be VP of design for Tommy jeans. Her last role was as chief merchandising officer for a large childrenswear manufacturer. It took her entire career to figure out that kids clothes is what she liked doing most. The pandemic inspired her to creat Supermix Studios.
The Plan
She plans on having kiosks in Claire's and at resorts and cruise ships. Lori thought it was online and her and Robert want to know why go the kiosk route. Jennifer says she's recognized trends her entire career and this is an incredible in store experience. It's "retailtainment." She launched in October of 2022 and did $60,000 for the holiday season. Year to date, she's done $110,000 for $170,000 in lifetime sales. Kevin hates the kiosk idea. Jennifer says customer acquisition costs are very expensive and the kiosks are customer acquisition.
Mark says it's not about customer acquisition. In store sales are about the immediacy of the product, and people want things right now. The kiosk doesn't offer that and he says he's out. Daymond says he likes it, but the kiosk thing could be amazing or a real problem. It's too risky for him; he's out. Robert says it's great quality and a great price point but the sales are so low, but he still loves it.
Who's In?
Jennifer hears the feedback about the kiosk, but retailers like that it will keep people in the store longer. Going into Claire's, they'll get 30% of the revenue from the kiosk. Ultimately, Jennifer handles the invventory. She calls it the "Build a Bear of apparel." Kevin says retail is a curse; he's out. Lori thinks she's brilliant and the idea is super smart. She sees putting kiosks where moms and kids go. Robert and Lori team up to offer $250,000 for 25% plus a 5% royalty until they recoup $250,000. Jennifer counters with 20% plus a 2% royalty. Robert counters with 20% plus a 3.5% royalty and Jennifer does the deal with Robert and Lori.
Supermix Studio Shark Tank Update
The Shark Tank Blog constantly provides updates and follow-ups about entrepreneurs who have appeared on the Shark Tank TV show. Once an episode has aired, we monitor the progress of the businesses featured, whether they receive funding or not and report on their progress. Immediately after the show it was unclear whether the deal closed or not, but Jennifer said: "It was incredible to receive first-hand validation from the Sharks, in the form of this deal, that Supermix Studio is not only innovative and empowering, but that we boast incredible quality products at an unparalleled value."
The Shark Tank Blog will follow-up on Supermix Studio & Jennifer Stein-Bischoff as more details become available.