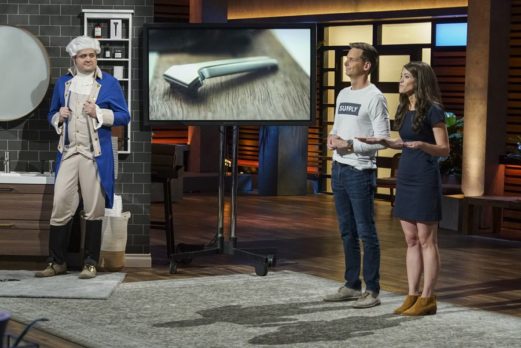 Patrick and Jennifer Coddou  seek a Shark to help them grow Supply, their modern, single blade razors, in Shark Tank episode 1107. The couple started the business as a "side hustle" in 2015. At that time, Patrick was still climbing the corporate ladder at Lockheed Martin. His last job there was selling jet fighters to overseas accounts. While that sounds exciting, both he and his wife – who he met while working at Lockheed – yearned for more.
In 2015, they launched the then "part-time business" with a successful Kickstarter campaign that raised $78,278. While on a road trip out west together in 2017, the couple did some soul searching and decided to go all in with Supply. Patrick put in his two weeks notice upon their return and rest, as they say, is history. They did a second Kickstarter in 2017 to launch Supply 2.0 that raised a whopping $256,092 and they were well on their way.
The heart of the business is the Supply 2.0 single blade injection razor. It's like the single edge razors of old, but in a sleek, modern, stainless steel package. At $79.00 for a razor, it seems pricey at first, but each new razor comes with a 100 year guarantee and a year's supply of blades. Replacement blades are just 50 cents each.
Single edge razors deflate the "myth" of the multi-blade razor. Multiple blades actually pull hair out of the skin, resulting in more – not less – razor burn. Handling the blades is easy, too: just insert the pre-loaded blade magazine into the Single Edge and slide the lever to change the blade. They also sell grooming accessories including ultra-lather shave cream, silvertip synthetic shave brush, aloe-based post shave, daily wash and body lotion. They also launched a third successful Kickstarter that raised $32,223 for the "everyday Dopp Kit." This was to help launch their line of leather goods. The Coddou's likely want a Shark to help them take the business to the next level. Will a Shark think Supply is a sharp investment?
Company Information
Video

Posts about Supply on Shark Tank Blog
Supply Razors – Hi Tech Single Blade Razors
Supply Shark Tank Recap
Patrick and Jennifer will pitch the panel of five Sharks on the business and its prospects for growth. They'll need to convince Mark Cuban, Kevin O'Leary, Lori Greiner, Robert Herjavec and guest Shark Daniel Lubetzky that the company is worthy of a Shark investment. A good business plan, good financials, and sales data will impress the Sharks, but they'll need to show them THEY are capable of running the company to "Shark standards." A full pitch re-cap on Supply will be available on Shark Tank Blog once this episode airs.
Supply Shark Tank Update
The Shark Tank Blog constantly provides updates and follow-ups about entrepreneurs who have appeared on the Shark Tank TV show. Once an episode has aired, we monitor the progress of the businesses featured, whether they receive funding or not and report on their progress. The Shark Tank Blog will follow-up on Supply & Patrick and Jennifer Coddou as more details become available.