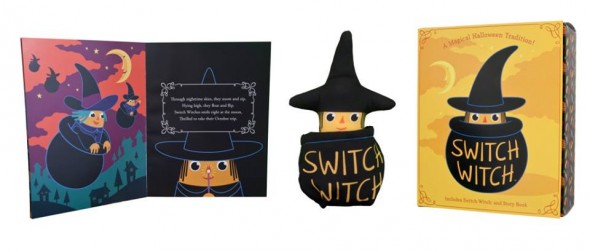 Rob Bouley and his sister-in-law, Lara Spear Riley, pitch Switch Witch, their Halloween themed plush toy and accompanying storybook, in Shark Tank episode 705. The Switch Witch is a small plush toy that "switches" Halloween candy for a gift or something else. The idea is by using the Switch Witch, you'll cut down on the amount of sweets your kids will eat.
Bouley, who owns an ice cream shop, knows the occasional sweet is OK, but gorging on the pounds of candy isn't healthy. When he heard of the "legend" of the Switch Witch in 2013, he thought he could create a product out of it. He asked Riley, a reading specialist, to write a storybook to accompany a plush toy. Together, they created a story line that gets a kid to behave – a la Santa Claus – when the Switch Witch is in the house (they're supposed to arrive October 1). The toys are hidden by parents so the kids can play a magical game of hide and seek, too.
Bouley tried getting the business off the ground on Kickstarter, but his campaign to raise $14,500 was unsuccessful back in July, 2014. He appears to have found the cash to produce the product; The Switch Witch is available at a few toy shops throughout the country and it's widely available on Amazon. The doll and book will set you back 22 bucks.
Will Switch Witch bewitch a Shark and get an investment?
Switch Witch Shark Tank Recap
Rob and Lara enter seeking $55k for 25% from the "SHAHKS" (they're from Boston). Joining them are three kids in Halloween costumes – one is dressed as a Shark. They demo the story as the kids dump out tons of  candy from their bags. Then, the Switch Witch switches out the kids' candy for a gift.
Kevin asks if they're worried about litigation for taking candy. Robert wants clarification on the process the kids go through to give up some of the candy. Mark says he thinks it needs to be viral while Kevin says the seasonality is brutal.
Rob explains the concept has been around for a while. They sold 815 units their first year for $15,700 in sales. The Sharks want to know why it didn't take off. Kevin likes the merits of the product, but its a non-proprietary plush doll. He says they ought to take a cue from the Salem witch trials and burn it behind the barn because "it sucks."
Robert likes free candy, so he's out. Lori did a deal with Christmas and Hanukkah products, but Halloween is one day, not a whole season. She's out. Mark says they are introducing more stress into the situation than they are solving and to succeed, Switch Witch needs to be organically viral. He's out. Daymond says it could be a hobby that will grow into a nice business, but it's too soon. He's out.
RESULT: NO DEAL
Switch Witch Shark Tank Update
The Shark Tank Blog constantly provides updates and follow-ups about entrepreneurs who have appeared on the Shark Tank TV show. The lack of a proprietary name and trademark has hurt the business. There are at least two other similar, "knock-off" companies doing the same thing. While this created confusion, the product is still for sale on Amazon and in The Paper Store and Hallmark stores in Massachusetts, Maine, and New Hampshire.
Since appearing on Shark Tank, the company has taken a seasonal approach to marketing and sales. There's a lot of activity from mid-August to Halloween, then things taper off until next year. As of August, 2022, the company is still in business. Reliable revenue figures are unavailable.
Posts About Switch Witch on Shark Tank Blog
Company Information
Video