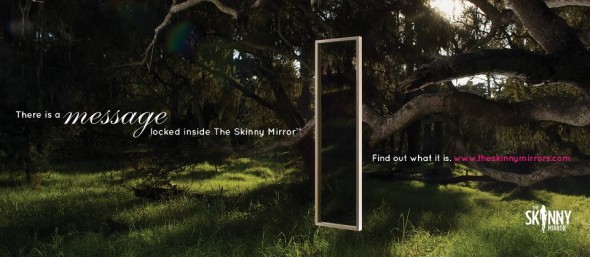 Belinda Jasmine hopes she reflects well on the Sharks when she pitches The Skinny Mirror, a patent-pending mirror that makes you appear 5-10 pounds slimmer, in Shark tank episode 705. Belinda created the Skinny Mirror when she was looking in an old mirror and thought she looked fat. She really wasn't fat, the mirror had imperfections that made her appear ten pounds overweight. She did some research and found that 50% of all mirrors had similar imperfections, so she invented the Skinny Mirror which has a "slimming curve" built-in to give a more svelte reflection.
Ms. Jasmine ran a successful Kickstarter campaign in the Spring of 2015, raising over $7,500 to help get production off the ground and to raise awareness that beauty has a lot to do with perception and self-esteem. Part of the Skinny Mirror philosophy is that you look as good as you feel and you'll feel better if you have a slimmer image staring back at you in the mirror.
The Skinny Mirror is made in the USA with reclaimed wood and materials. They come in a variety of sizes, including designs made for fitting rooms, and one mirror will set you back from $99 (for the Bare Naked version) to $675 for an extra-large, steel framed mirror. Belinda will even custom make a mirror for you. They're available at about a half-dozen retail outlets in the Santa Cruz/Carmel area, and on Amazon in limited quantities.
Will Belinda reflect well on a Shark and get an investment?
The Skinny Mirror Shark Tank Recap
The segment opens with an "at home" segment. Belinda is shown surfing and she says she has an active lifestyle, but she still has self-image issues. Her car is "in hock" and she's maxed herself out. She wants a Shark's investment to increase production.
Belinda enters seeking $200k for 20% of her business. She claims the Skinny Mirror "sets a new standard to see your true self."  It shows how you can feel good if you look good and invokes the old Billy Crystal routine. She invites the Sharks on stage to try it out.
Daymond says "I need this!" Lori likes it too. Belinda explains the ideal distance is 3-5 feet from the mirror. Mr. Wonderful says it's supporting a falsehood and calls it a lie. When he asks her about sales, she says she's sold 350 units for $85K – mostly to retail locations and hotels. Mr. Wonderful says it's still supporting a falsehood. Belinda replies that her retail customers report that women buy more clothes when they look at themselves in the Skinny Mirror.
Robert wants to know if stores let people know they're using a Skinny Mirror and Belinda says she refused a big order because store wanted her to remove the logo and she wouldn't do it. Kevin says anyone can make this mirror, he's out and he forbids any other Sharks from investing because "it's all crap!"
Kevin is out and forbids other sharks from investing
Mark says he can see the idea, but if it's used to incent a purchase in a store, it's not what he wants to be involved in. He's out. Robert gets it too, but if customers look good in a store and they buy something, it's dishonest. He's out.
Lori wants to know why Belinda came up with the idea and Belinda says 'Fat Mirrors' create a lot of body insecurity in women. Daymond thinks it's dangerous because it could make people live an unhealthy lifestyle. He's out. Lori gets that women want to look better, but she has a problem with stores using it. She's out.
RESULT: NO DEAL
The Skinny Mirror Shark Tank Update
The Shark Tank Blog constantly provides updates and follow-ups about entrepreneurs who have appeared on the Shark Tank TV show. This business closed seven months after appearing on the show.
Posts About The Skinny Mirror on Shark Tank Blog
The Skinny Mirror Company Information