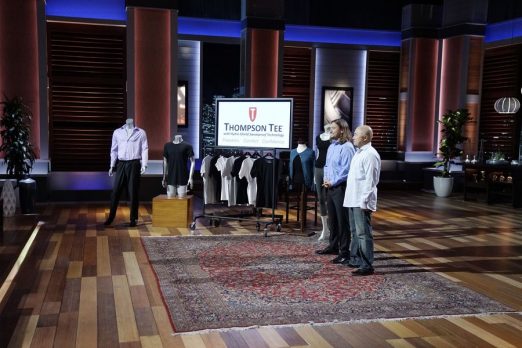 Billy Thompson and Randy Choi look for a Shark investment in Thompson Tee, their tee shirts that block underarm sweat, in Shark Tank episode 824. Thompson wanted to make the product because he suffers from hyperhidrosis – excessive underarm sweating. When he sought out friend and clothing designer Randy Choi to help him design a sweat-proof tee-shirt, he found out Choi suffered from the same affliction.
Together, they set out on a more than ten year journey to produce a lightweight, breathable and absorbent fabric for a tee-shirt that would spare them (and others) the embarrassment of sweaty arm pits. In 2014, they got a patent for their "Hydro-Shield sweat proof technology," and the business was born.
They sell their shirts on Amazon and in their online store. Each tee-shirt costs between $25 and $32. Thompson Tee manufactures all their products in the USA. The tees will prevent sweat from getting onto expensive outer shirts, saving money and embarrassing stains. They likely need a Shark's help with distribution.
Will a Shark think this investment is no sweat?
Thompson Tee Shark Tank Recap
Billy and Randy enter seeking $700,000 for 7% of their business. They tell their story and hand out samples. They get into the numbers after we learn about their background. The shirts cost $8.50 to make and sell for $25-$30. The first year in business, they sold $90,000. The second year they did $500,000. This year, their fifth year, they're on track to do $4 million.
They say they want the cash to bring manufacturing in house. Daymond doesn't like that idea and he goes out. Kevin hates the valuation and he goes out. Mark thinks they don't have a clear vision of what they'll do with the money and he goes out. Robert likes the product and offers $700,000 for 25%. When they look to Lori, she goes out. After Kevin jumps back in with a $700,000 loan at 18% for 7% of the company, Billy and Randy take Robert's offer.
Thompson Tee Shark Tank Update
The Shark Tank Blog constantly provides updates and follow-ups about entrepreneurs who have appeared on the Shark Tank TV show. The deal with Robert never closed. They didn't need him. In 2017, they did $9 million in revenue. Sometime in March, 2019, they sold their one millionth tee shirt. As of June, 2022, they are doing $10 million a year.
Posts About Thompson Tee on Shark Tank Blog
Company Information
Video