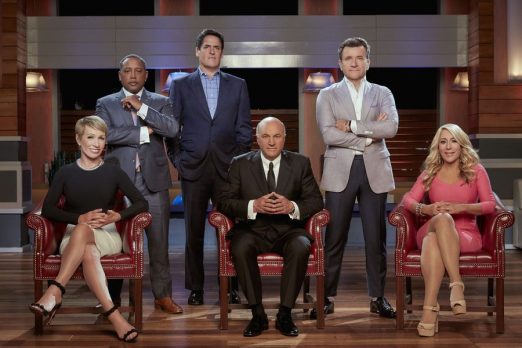 Shark Tank Episode 824 features four new entrepreneurs seeking an investment from the panel of wealthy Sharks. Trevor and Justin Johnston want funds to grow their Wallet Buckle, a belt buckle that doubles as a wallet and securely holds up to five credit cards and IDs. Tyler Peoples wants the Sharks to help him make his Peoples Designs Scooping Bowl a standard tool in every kitchen. Afghan combat veterans Emily Miller, Kim Jung, and Keith Alaniz seek to spice up the Shark Tank when they introduce Rumi Spice, their company that sources and imports Saffron and other spices from Afghanistan farmers. Billy Thompson and Randy Choi introduce their patented, sweat-proof, made in the USA tee-shirts, Thompson Tee, with the hopes that a Shark won't sweat the investment.
Which business hooks a Shark tonight?
Back in season seven, Mr. Wonderful invested $300K for 15% of LovePop, the pop-up greeting card company based in Cambridge, Massachusetts. Since then, they had one update and they were doing great. Tonight's update should add to their success story.
There are 28 Shark Tank Episodes for Season 8. This season features more appearances by Chris Sacca and a host of other surprises. Casting is currently closed, but it never hurts to get a head start on season nine! If you would like to appear on the show, check out our Auditions and Casting information.
Episode 824 – The Shark Investors and Entrepreneurs
The Shark Tank Episode 824 entrepreneurs will make their best pitch to the panel of five Shark investors who will use their own money if they choose to invest. The Shark Investors negotiate on the spot without any previous information, which differs from typical negotiations between venture capital investors and entrepreneurial start-ups.
Companies pitching the Shark Investors must go through a rigorous due diligence process before an on-air deal is completed. Shark Tank Blog follow ups help you keep track of the companies that end up successful and the ones that don't complete their deal.
Thank you for reading SharkTankBlog, the number one site for Entrepreneurs, Investors and Fans. Our content updates multiple times day, giving you the latest information on Episode 824, Season 8, and all other seasons and episodes.
Episode 824 Press Release
Episode 824 (5/5)
AN UNDERSHIRT THAT PREVENTS EMBARRASING SWEAT STAINS, A 'WHY DIDN'T I THINK OF THAT?' IDEA FOR AN EVERYDAY ACCESSORY, HOW THE RAREST AND MOST VALUABLE SPICE IN THE WORLD CAN EMPOWER FARMERS IN A WAR-TORN COUNTRY, AND A MULTI-PURPOSE MIXING BOWL WITH A UNIQUE SPOUT, ON AN ALL-NEW EPISODE OF ABC'S 'SHARK TANK'
"Episode 824" – Two entrepreneurs from Placentia, California, pitch their solution to embarrassing underarm sweat marks and stains; brothers and best friends from Walnut Creek, California, believe their belt buckle that doubles as a wallet is the most convenient way to carry your essentials; U.S. Army veterans from Chicago, Illinois, hope to empower farmers in a war-torn country by helping them cultivate and harvest saffron; and a former executive chef from Colorado Springs, Colorado, with an unlikely story, thinks his multi-purpose mixing bowl will become the next go-to kitchen gadget. Also, a follow-up with Robin "Wombi" Rose and John Wise from Cambridge, Massachusetts, and their 3D paper pop-up greeting cards, LovePop, that Kevin O'Leary invested in during season seven, on "Shark Tank," airing FRIDAY, MAY 5 (9:00-10:01 p.m. EDT), on The ABC Television Network.
The Sharks in this episode are Mark Cuban, Daymond John, Kevin O'Leary, Lori Greiner and Robert Herjavec.