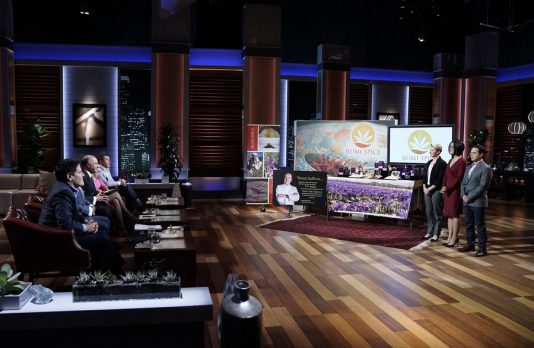 Emily Miller, Kim Jung, and Keith Alaniz want a Shark to back Rumi Spice, their company that grows Saffron in Afghanistan, in Shark Tank episode 824. The three entrepreneurs are all combat veterans who did tours in Afghanistan. They wanted to help the rural farmers in the country earn a decent wage while supplying the world with Afghanistan's most delicious export: Saffron.
Their mission is to "cultivate peace in Afghanistan" by creating demand for agricultural products on the world market. Saffron grows best in arid climates like Afghanistan and the country consistently produces the best spices in the world. They source their product from small farmers and employ over 300 Afghan women to painstakingly harvest the product.
They got the business started with a Kickstarter campaign that raised over $32,000 back in 2015. Saffron costs over $5,000 a pound, making it the most valuable spice in the world. Farmers can make six times more money than if they grew opium! The Rumi Spice team wants a Shark's help getting the word out and with increasing their production. Will a Shark bite on this spicy opportunity?
Rumi Spice Shark Tank Recap
Emily, Kim, and Keith enter seeking $250,000 for 5% of their business. They explain their business and hand out samples. The best saffron, they say, comes from Afghanistan, the stuff most people are used to is poor quality stuff from Spain or Iran. Afghani saffron costs $18 a gram because it takes up to 150 hours to process a gram by hand.
A $35 jar costs them $8.30 to make. While they want to make an impact by investing in Afghanistan, they ultimately want to be profitable. They sold$400,000 so far and expect $750,000 in sales by the end of the year. The saffron market is about $60 million a year – a fraction of the $10 billion per year spice market.
Daymond thinks it's too expensive and he goes out. Lori loves their mission, but she's not crazy about saffron; she's out. Kevin asks about their numbers and gets confusing answers; he's out. Mark offers $250,000 for 15% and Robert offers $250,000 for 25%. They look at each other then accept Mark's offer.
Rumi Spice Shark Tank Update
The Shark Tank Blog constantly provides updates and follow-ups about entrepreneurs who have appeared on the Shark Tank TV show. The deal with Mark didn't close and the company does not appear on his website. In 2018, they secured $2.5 million in venture capital from two investors.
They expanded their spice line to include a mulling spice blend, an Afghan curry braise, a Kabul spice blend, and a Paella spice blend. They also sell saffron based teas and jams and Afghani cumin. The three founders are pursuing other opportunities and hired a CEO to run the show. The company launched nationally in Whole Foods Markets in September, 2018. In December, 2018, they got a $2.5 million Series A Investment from InFrontier.
After the August, 2021 withdrawal of US troops from Afghanistan, CEO Patti Doyle said they would continue to operate and that the company remained committed to its farmers. Despite issues surrounding the ability to export due to political unrest and the worst drought in the region in over 20 years, they continue to purchase  saffron from Afghan farmers. They also began buying Wild Black Cumin farmed in the Hindu Kush mountains in central and western Afghanistan, northwestern Pakistan and far southeastern Tajikistan.
As of November, 2022, the company is still in business with annual revenue of $5 million.
Posts About Rumi Spice on Shark Tank Blog
Rumi Spices – Saffron from Afghanistan
Rumi Spice Company Information
Video