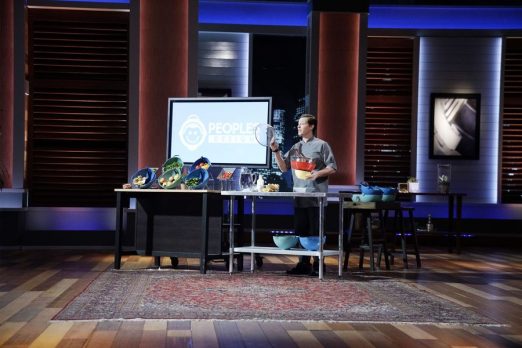 Tyler Peoples pitches the products of his eponymously named business, Peoples Designs, in Shark Tank episode 824. Peoples, a personal chef from Colorado Springs, Colorado, invented his flagship product, the Scooping Bowl, "to save time, space and money" in the kitchen. The Scooping Bowl is currently the only product in the Peoples Designs repertoire, but he may have others in the works.
The Scooping Bowl is a bowl with a built-in spatula. It's basically a hinged, semi-circular insert in a mixing bowl that lets you spatula out the contents quickly and easily without additional tools. The design also lets you easily strain food items. You can also use the insert as a divider and put chips and dip in the same bowl.
Each Scooping Bowl costs $24.95. He only sells the product direct from his company website. The business is fairly new, so he likely needs a Shark's help with all aspects of production and with distribution. Will a Shark get in the mix and invest?
Peoples Designs Shark Tank Recap
Tyler enters seeking $75,000 for 25% of his business. He demonstrates the various uses for his bowl then hands out samples. Tyler explains that he's past the prototype phase and filed his patent. They cost $5.80 to make and sell for $24.95. Unfortunately, he only sold 200 units. He says it sells best when people see it in action.
Lori offers $75,000 for 33.3% and says she'll get it on QVC, Bed Bath & Beyond and more. Mark speaks up and says his favorite utensil is the phone so he can order carry out; he's out. Robert quickly follows. Daymond thinks there are too many gadgets and goes out. Kevin encourages Tyler to take Lori's deal.
Tyler asks if Lori will do a royalty deal at $75,000 for 25% plus a royalty of $1.00 a bowl. Lori explains the amount of work she'll need to put in. She also has concerns that he's only sold 200 units. She holds firm on her offer and Tyler accepts the deal.
Peoples Designs Shark Tank Update
The Shark Tank Blog constantly provides updates and follow-ups about entrepreneurs who have appeared on the Shark Tank TV show. The deal with Lori closed and they were on QVC. After rebranding it to The Squeebie Bowl, they sold $500,000 in the two years after the original air date. Sometime in 2018, something happened and the products became unavailable.
As of August, 2022, the website is dark, but a renamed "Squeebie Bowl" is for sale on this Facebook Page. Tyler is now the catering manager at Springs Rescue Mission in Denver.
Posts About Peoples Designs on Shark Tank Blog
Peoples Designs Company Information
Video