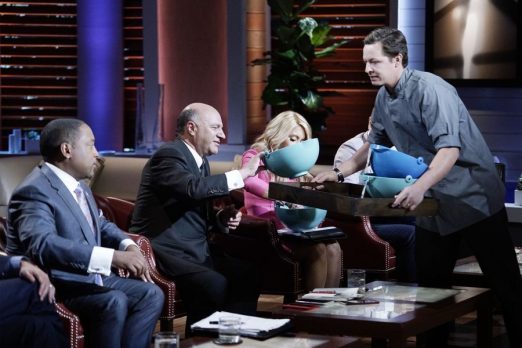 Tyler Peoples shows the Sharks his Scooping Bowl invention in episode 824. It's a bowl with a hinged, built-in spatula and it has multiple uses. The spatula clears out batter quicker and more efficiently than the traditional way and the hinged design allows it to work as a "double bowl," colander, and egg separator.
Peoples is a former chef who wanted to find a kitchen gadget that works like his Scooping Bowl. When he couldn't he invented it. His company, Peoples Designs, has other products in the works, but they aren't listed on the website yet. He bills the  BPA plastic bowls as  a perfect tool for "kitchens tight on space" and says it "makes a perfect gift for anyone." He claims the ability to quickly scrape the entire bowl clean will save money on ingredients, too.
He has a patent for the product and it looks as if it is well made. He has a long history as a chef in Colorado Springs, but prior to creating the Scooping Bowl, he worked with the Springs Rescue Mission training men "in recovery" to become chefs. He also oversaw the preparation of some 130,000 plus meals yearly at the mission.
We'll see if the Sharks get the scoop on Mr. Peoples.
My Take on the Scooping Bowl
There are so many kitchen gadgets out there, I have a bit of "gadget overload." That said, the Scooping Bowl looks like a nifty item. I don't do a lot of baking, but one more bowl that has some extra functionality wouldn't be unwelcome in  my kitchen. From the looks of it, it replaces two bowls in my kitchen. Since downsizing, I have less space everywhere, so that's a good thing.
There are a gajillion kitchen gadgets on the market and good ones sell well. I know people who love having a cabinet full of gadgets, whether they use them a lot or not. My sister-in-law will get every time-saving gadget she can find and never use them. That's bad for her, but good for gadget marketers. For that reason, I'm in.
Will Sharks Scoop up this Business?
The Scooping Bowl  could be a good QVC-type product. Mr. Wonderful and Lori, the king and queen of QVC, are the likely targets. The product kind of fits into the something wonderful platform and it's in Lori's wheelhouse as well. Since Peoples has it patented, the product becomes more valuable, too.
While he may do a deal on air,I don't think Peoples closes a deal with a Shark. His website is far too rudimentary in the weeks prior to the show to indicate a Shark closed with him.