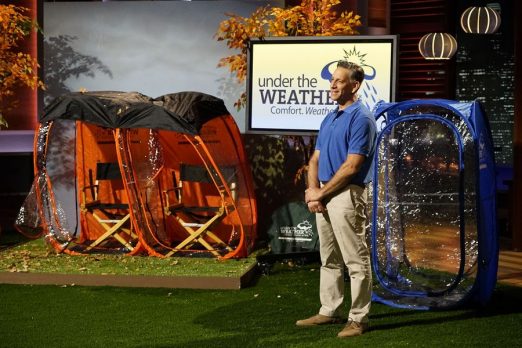 Rick Pescovitz wants a Shark to invest in Under the Weather, his hybrid chair/tent, in Shark Tank episode 822. Under the Weather keeps you warm and dry in the coldest, wettest weather while sitting to watch a game or event. Think of it as a "soccer mom chair" with a tent attached.
Rick got the idea for his product while attending a soccer tournament his son played in. The 8 AM game featured sub-freezing temperatures and cold rain – not the best conditions to sit through! That night, the light bulb went off in his head and he designed the first prototype. Essentially, Under the Weather is a tent/chair combination (they're called pods) that's portable, but not cumbersome. It keeps you warm and dry in cold weather and offers sun protection in warm weather.
Rick cashed in his savings to start the business and it was slow going at first. When his wife, Kelly, got involved, she used her 25 years of marketing experience to rapidly grow the brand on social media. Within a few weeks, she had the business shipping hundreds of units.
One of Rick's pods costs between $59 and $200, depending on the features and number of people protected by the pod. Pods connect with the "connect up" accessory, so you can have the whole team under cover. They even have college licensed pods.
Rick likely wants a Shark's help with fulfillment issues and with mass retail. Will a Shark weather the storm and invest?
Under the Weather Shark Tank Recap
Rick enters seeking $600,000 for 10% of his business. He has his two kids on the sideline of a mythical sporting event. They get systematically doused with rain, wind and snow in the studio. Rick  then sets up his product then connects them. After Robert calls it ridiculous looking, Rick invites a Shark to try it. Mark, Lori and Daymond try it. Rick turns on the "rain" again and the Sharks stay dry.
Kevin asks about the numbers. Rick tells him he sells 85% online. Each unit costs him $23 and he sells them for $99. Last year's sales were $2 million. He has a utility patent and 9 design patents. He had a business previously that he hated and he sold in 2012 for $3.5 million. In a sad interlude, he tells how his brother was killed in an auto accident the day after Rick shared his idea for Under the Weather.
Daymond wants to know why he needs the money. Rick tells him he needs help with getting into retail and dealing with knock-offs. Daymond offers $600,000 for 20% and says he wants to license the product. Kevin offers the exact same deal and says he'll help with an inventory system. Robert says Rick doesn't really need help and goes out. Mark offers $600,000 for 15% with an option to buy another 10% for $600,000. Rick agrees!
Under the Weather Shark Tank Update
The Shark Tank Blog constantly provides updates and follow-ups about entrepreneurs who have appeared on the Shark Tank TV show. The deal with Mark never closed, but Rick really didn't need a Shark. He extended the product line to include a mini, deluxe (for larger folks) and a mega pod which can fit two chairs and a table.
Further innovations followed and now he makes pods for bug protection, stadium seating and more. The products are only sold at DICK's Sporting Goods, Field & Stream, SCHEELS, Walmart, Amazon and his own website.
In March, 2018, Under the Weather (UTW) was sued by Anthem Sports, LLC for patent infringement and breach of contract. The two companies entered into a distribution agreement in 2014 whereby Anthem would distribute the Under the Weather products online. Sales of Under the Weather products increased dramatically. Things went south in 2015 when Under the Weather increased its wholesale prices to Anthem to a point where Anthem couldn't make a profit. It was at this time Dick's Sporting Goods began offering Under the Weather products online and in stores. Anthem also alleged Under the Weather infringed on its trademark SportPod™. Anthem further alleged that UTW was disparaging its products on social media. The court dismissed all the various counts Anthem alleged in 2018 except the breach of contract and trademark infringement claims. Anthem then demanded a jury trial and the case has either been settled or has been in limbo since. Both companies continue too sell their versions of their "Sportspods" but UTW has stopped using the term and now calls it the "My Pod."
When 2020 rolled around, sales dropped 70% because nobody was going to sporting events, so Rick pivoted. He created the IntubationPod, which protects health care workers from aerosol spraying from patients while being intubated. It's now widely used in the health care industry.
As of December, 2022, the company is still very much in business with annual revenue of $5 million.
Posts About Under the Weather on Shark Tank Blog
Company Information
Video