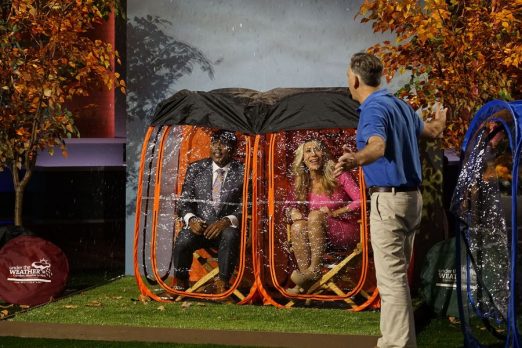 Rick Pescovitz created Under the Weather Pods, his chair tent for outdoor sport spectators, after freezing his butt off at his son's early morning soccer game. That very night, he designed the first prototype. Like the picture above shows, it's a soccer mom (or dad) chair with a little tent around it. Multiple pods connect to make them more communal, too.
The tent around the Under the Weather Pods keeps out rain, wind and snow and keeps it as much as 30 degrees warmer. It's not cumbersome – it sets up and breaks down quickly and doesn't take up much more room than a regular chair. They can even be used without the sides on as a sun shield.
Rick sunk his life savings into the business and it was slow going at first. The secret sauce that drives the business is his wife, Kelly. When she got involved, she used her 25 years of marketing experience to rapidly grow the brand on social media. The were shipping hundreds of units a week shortly after she came on board. Now, they're an international brand that needs to get to the next level. A Shark could help them in episode 822.
My Take on Under the Weather Pods
With five active children, I've attended over 500 (and counting) youth soccer games, over 150 baseball games, several dozen football games, plus many other indoor events. I remember my older girls playing in a soccer tournament dubbed "The Frostbite Tournament" every Veterans Day Weekend. Several of those tournaments featured snow, all but one was pretty cold. I would have LOVED one of these pods!
Sadly (well maybe not so sadly) the tournaments I attend now with my youngest are either indoors (volleyball) or outdoors in the warm Florida weather. I really don't need Under the Weather Pods anymore. I carry a large umbrella to the outdoor events now – not for rain, but to shield me from the sun. I won't be a customer, but I know many people in northern climates will buy this. Youth soccer sales alone could number in the millions. I am IN.
Do Sharks Like the Pods?
It looks like Rick and Kelly have their business doing well, but getting to the next stage is their likely goal. This product would do well in a retail setting because once you see it, you'll want it. A Shark can definitely help them get there.
Any Shark could bid on this if the deal is right. It's a unique, mass market item with a large customer base – and potential for profit. If Rick frames his proposal right, he'll get multiple bids. I predict a deal for Under the Weather Pods!