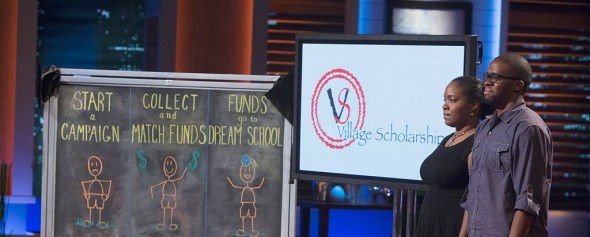 Tasha and Antonio Adams pitch Village Scholarships, their new idea for helping students find scholarship funds, in Shark Tank episode 707. The service is still in the developmental phase, but the idea is simple. Village Scholarships is a crowdfunding type platform for college scholarships. Antonio describes it as "Match.com meets Kickstarter," but for scholarships. The idea is to take crowdfunding and matchmaking elements to make finding money for scholarships easier.
The service seeks to streamline the scholarship process while providing a platform for micro-loans to students at the same time. The goal is to have an internet space where scholarship granting entities, alongside friends and family, can provide college money to students. Donors and students create profiles within the Village Scholarships system and can give or receive money at any time. All donations are tracked for tax purposes, too.
Village Scholarships is still in the developmental stages. They are testing website designs and offering free "premium services" to the first 500 users. It's a solid concept that needs to get some momentum, perhaps with the help of a Shark.
Will a Shark join this village?
Village Scholarships Shark Tank Recap
Tasha and Antonio enter seeking $125K for 10% of their business. They say getting accepted to college is a big deal, but paying for it is an ordeal. Their solution is Crowdfunding. Users create a profile to share with family, friends, and their entire social network to help raise money. Village Scholarships takes 8.5% of donated funds. Their website is still not finished, so it's still in the conceptual phase.
Robert says it's a way to donate. Sacca says the majority of fundraising is people close to the user. Antonio says the  competitive advantage is fund matching from "angels." The Sharks want to know how Tasha and Antonio funded their college educations. Tasha got a full academic scholarship for her schooling, Antonio lost a basketball scholarship due to injuries.
Robert doesn't think friends and family will pay 8.5% to give money and doesn't think it will work; he's out. Mr.Wondrful invested in competitive platforms – Honeyfund and Plumfund – he's out. Lori thinks it's too early; she's out. Sacca likes their ideas, but it needs to integrate better; he's out. Mark says he wishes they had a tangible product; he's out.
RESULT: NO DEAL
Village Scholarships Shark Tank Update
Sasha and Antonio's lack of focus appears to have led to the Village Scholarships idea fizzling. Without a Shark Tank backer, and without enough of a business plan to build upon, the company folded. The website is no longer in existence and the social media hasn't been updated in over a year.
With other crowd-funding platforms out there, the idea was doomed before it got off the ground. While the idea of crowd-funding tuition is not a new one, as evidenced by Honeyfund and Plumfund, the competition in the niche is fierce and it's important to have something new to bring to the table. It would've taken a village to raise this idea, but unfortunately, it appears that the support just wasn't there. This company went out of business in 2016. Better luck next time to these two entrepreneurs.
Posts About Village Scholarships on Shark Tank Blog
Village Scholarships Company Information