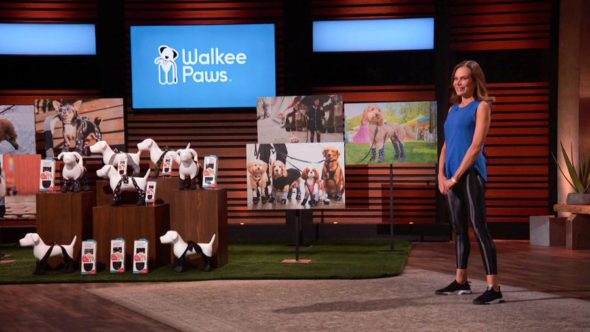 Lisa Baronoff seeks a good fit for Walkee Paws, her legging for dogs that protect their paws, in Shark Tank episode 1212. She first envisioned the product in 2016. She was concerned about chemicals and road salts her dogs' feet were coming into contact with when she walked them. Her dogs didn't like traditional dog booties and those didn't last long either.
So she cut up an old pair of panty hose and created a sling that went over her dog's back to hold a water resistant booty in place. The sling acts like suspenders for the booties so they don't need to be tight around  a dog's leg. The extra fabric also keeps a dog's legs cleaner on a messy day.
After a lot of trial and error, Lisa finally got the design down pat. She decided to use her many years of marketing experience to get her new venture started. Walkee Paws come in dozens of colors and patterns and range from $25-$50, depending on size and style. They're readily available on Amazon and her website. She likely wants a Shark to help her break into big box pet retailers.
Company Information
Video

Posts about Walkee Paws on Shark Tank Blog
WalkeePaws – Leggings for Dogs
Walkee Paws Shark Tank Recap
Lisa enters seeking $150,000 for 5% of her business. The Sharks like the fact the leggings are patented, but feel it's a very niche product. They do like that she did a little over a million in sales with $250K profits, but only Kevin makes an offer.
In fact, Kevin makes two offers. The first is $150,000 for 5% with a royalty of $2.70 per unit until he recoups $150,000, then the royalty goes to fifty cents per unit in perpetuity. The second offer is $150,000 for 20%. Lisa declines both offers. In the hallway, she says she wasn't willing to go over 5% and she didn't like royalty deals.
Walkee Paws Shark Tank Update
The Shark Tank Blog constantly provides updates and follow-ups about entrepreneurs who have appeared on the Shark Tank TV show. The first rerun of this episode in May, 2021 is just 2 and a half months after the original air date. As of this time, the company is still in business. In the aftermath of the original air date, Lisa saw order volume increase dramatically. As of July, 2021, projected revenue for 2021 is $2 million.