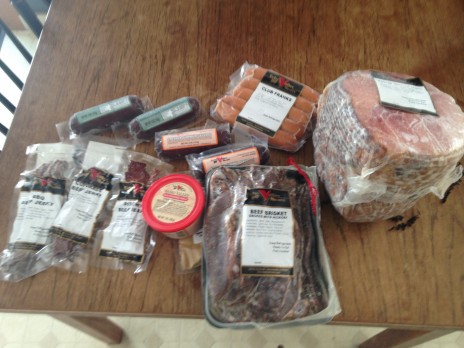 Dave Alwan takes a second swim in the Shark Tank in episode 621 as he asks the Sharks to invest in Echo Valley Meats – AGAIN. Dave is only the third entrepreneur to appear in the Tank twice. Rebecca Rescate appeared twice: once with City Kitty, once with the Hoodie Pillow. Rebecca is the first and only entrepreneur to get two deals with two different Sharks with two different products. Jim Martin appeared twice with Copa Di Vino. Jim left empty-handed both times; to his credit, he made the right choice in not giving up too much equity and now has millions in yearly sales. Another entrepreneur, Jeff Cohen of Voyage Air Guitar, taped twice: once in season 1 when he pitched unsuccessfully and once in season two where he did a deal with Mr. Wonderful. Cohen's second segment never made the air as the producers deemed the negotiations "too complicated." Cohen did get an update segment in season two, but not a "second pitch."
Let's hope the Friday the 13th air date isn't as unlucky as Dave's first appearance back in episode 421 in season 4! Since that appearance, things couldn't be any better for Echo Valley Meats. When Dave first pitched the Sharks, two things happened: they all LOVED his food and they all thought he didn't understand eCommerce. At that time, both things were true. Dave's come a long way since then, partially due to the Shark Tank Effect. After he first aired, his website blew up with over $1 million in orders in one week.
You see, Dave took the Sharks' advice. After he initially taped his segment, he totally revamped his website – before his segment aired. When the first segment did air (about 9 months after taping), he was ready. He had multiple cloud servers, complete site analytics, and a comprehensive strategy to grow his online business. It took an appearance on Shark Tank for Dave to get the Echo Valley Meats website where it needed to be to do big-time eCommerce.
Now that he's there, what could he possibly want or need a Shark for?
My take on Echo Valley Meats
Since Echo Valley Meats first appeared on Shark Tank, I got to know Dave. The guy has a heart as big as one of his Easter hams – he always sends us "care packages" throughout the year, always sure to include some of his hot dogs! In addition to the franks, I've had his ham (a big Easter item), brisket, award-winning summer sausage, prime rib, filet mignon steaks, beef jerky, cheese spread, and more. Everything we got from Echo Valley Meats is nothing short of fantastic, I cannot recommend ordering from them enough – it's that good.
Echo Valley Meats has simply fantastic food. The Sharks, the producers, and everyone on the ABC lot gets Dave's food. Everybody who tries it, loves it – because it's good food! The ONLY reason Echo Valley Meats didn't get a deal the first time out was Dave sold the steak, NOT the sizzle.
Dave was one of many entrepreneurs I interviewed for this site, and I think he might be the one who wanted a deal with a Shark more than anyone. He wants "IN" with the Sharks in the worst way, which probably drove his decision to go on the show again. He wants the Sharks, and the world, to know he's got his ducks (and hams and turkeys) in line now and he's the REAL DEAL.
Do Sharks Bite This Time?
I usually try to imagine different scenarios for each entrepreneur and try to guess if a Shark invests. Dave looks and sounds like a guy who has a Shark for a partner. In the case of Echo Valley Meats, it's not a question of IF a Shark invests, it's which one!