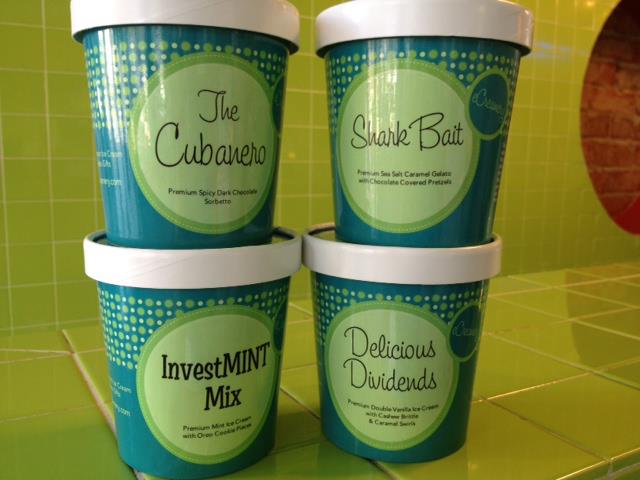 Shark Tank has another ice cream business pitching the Sharks on September 21, this one is called eCreamery. If you have ever wanted to create your own ice cream flavor, eCreamery may just be what you have been looking for! eCreamery co-founders Abby Jordan and Becky App have been making custom flavored ice cream and gelatto since 2007 and they bring their  successful business into the Shark Tank to appeal to the Shark's sweet tooths. The ladies even made a custom flavor for Mark Cuban called "The Cubanero," with premium spicy dark chocolate!
Last season, Brewer's Cow, the beer infused ice cream, got dropped by the sharks like a poorly scooped cone onto a hot sidewalk. Will eCreamery fare better? The company has been in business since 2007 and has gained praise from a variety of mass media for delivering fresh, unique ice cream. The custom ice cream company has been featured on everything from the Today Show to Oprah and it routinely wows attendees at food shows.
eCreamery's hook is you create your own flavor and label which allows you to create your very own, personalized ice cream. They sell in packages of four pints for a fairly steep $49.99. Gifting seems to be their main focus and I will have to admit, custom ice cream is a pretty cool gift! There are dozens of themed four packs to choose from a Wedding gift ice cream four pack to the somewhat amusing Break-up four pack featuring "Single is Sweeter, Recent Break Up RX, Everything's Better with Chocolate, and Love Bites." The ice cream entrepreneurs have even created a special Shark Tank package in honor of their appearance on the show:
"The Cubanero" – Spicy Dark Chocolate Sorbetto
"Delicious Dividends" – Double Vanilla Ice Cream with Cashew Brittle & Caramel Swirls
"InvestMINT Mix" – Mint Ice Cream with Oreo Cookie Pieces
"Shark Bait" – Sea Salt Caramel Gelato with Chocolate Covered Pretzels
eCreamery Craving
I perused around the eCreamery website while my tummy rumbled- I actually got up and smashed some leftover congo bars into some vanilla ice cream because I was getting an ice cream craving! The site is very professionally constructed and gives a successful impression. The question I always ask when I see a seemingly successful business pitching on Shark tank is, "why?" e Creamery appears to have more than enough media attention and they seem do be doing quite nicely. This is either one of those "publicity stunt" type of pitches where the entrepreneurs are hoping for a spike in sales by appearing on Shark Tank, or they have growth issues and need investment capital to take things to the next level. Another hook could be they want to go national with their brand and need the clout that comes from Shark Tank to have national credibility.
My hunch is Mark Cuban funds this business, hence "the Cubanero" flavor. Cuban has been publicly regretting NOT funding The Original Shrimp Burger since that episode aired and if he sees something of value in this custom ice cream company and the two ladies running it, I am betting he is "in." I was "out" on the Brewer's Cow, but eCreamery and their custom flavors have me interested. Give me some Shark Bait Ice Cream and I am definitely "in!"