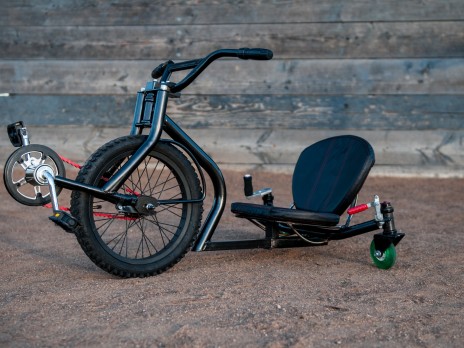 I, like just about every American kid born since 1964, rode the original racing trike: the Big Wheel. There was nothing like spending an afternoon racing around with your friends and doing power slides. The sad thing is, we all outgrew them because the maximum weight limit is around 90 pounds. Secretly, many former Big Wheel riders have yearned for a grown up version. There are several options out there, and 20-year-old Tyler Hadzicki has the latest incarnation. It's called the Leaux Racing Trike and he rides it into the Shark Tank tonight in episode 714.
Tyler invented the Leaux Racing Trike when he was seventeen. He got his inspiration from his dad, an engineer and product developer who created graphite skate boards and the four-lined kite – among other things. The first version was called the Onda Racing Trike. He had an unsuccessful Kickstarter in March of 2013, but he got right back on the bike and successfully raised over $45,000 later in the year, after re-branding it as the Leaux Racing Trike.
If you ever rode a Big Wheel, you'll get what this product is all about. It's "Leaux" to the ground with a big front wheel powered by a traditional bike chain and gear. The rear wheels aren't as big as a Big Wheel's, but they have a steering lever that lets riders drift and power slide. For regular riding, the rear wheels lock. Tyler got the first production run going with Kickstarter, now he needs a Shark to get to the next level.
My Take on the Big Wheel Leaux Racing Trike
I can make this really short and sweet: I WANT ONE!
I've been telling my wife for years that I'd LOVE an adult Big Wheel. I didn't know they existed until I researched this company. There are several other versions, but Tyler's racing trike looks like it gives the best replication of the Big Wheel experience for the price. Competing models cost up to $2000, the Leaux trike comes in at about $350.
Did I say I WANT ONE?
Do Sharks Ride?
The social media buzz on the Leaux Racing Trike tells me a deal doesn't get done. There's no mention of appearing on Shark Tank on the company website or Facebook Page. They don't even have a Twitter account! Usually, this means no deal.
Tyler has two patents, but the Sharks won't care. This is going to be one of those pitches where the Sharks like the product and Tyler, but he'll hear the familiar refrain: "It's too early, I'm out."