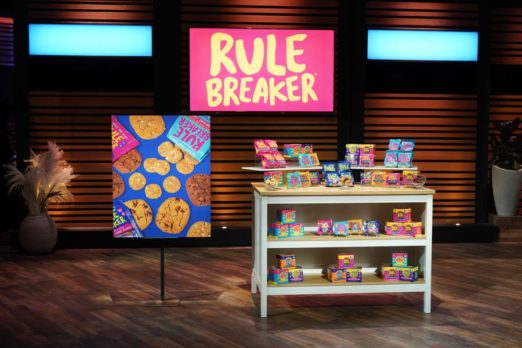 Nancy Kalish created Rule Breaker Snacks because she has a "dessert for breakfast sweet tooth. As a health coach, she's aware of how bad too much sweets are for you, but she still had cravings. She wanted a product that tastes like a brownie, but without all the "bad stuff." So she started experimenting with beans in her kitchen. After several failed experiments with black beans, she decided to try chick peas as a main ingredient. What she got was a healthy, yet tasty, sweet snack without eggs, milk or peanuts ,that she wouldn't feel guilty eating.
She's been selling Rule Breaker Snacks since 2014. She's on Amazon and on the shelves at some Whole Foods and WalMarts. She recently used Kickstarter to introduce her new brownie and blondie bites to the world. She funded the first run of production on those with the $28,000 + she raised.
She values her company at $4 million, so she must have decent sales. With flavors like Deep Chocolate Brownies, Chocolate Chunk Blondies, Birthday Cake and P'Nutter Chocolate Chip, she's sure to entice the Sharks, but will they bite? I wonder if Sharks like chick peas?
My Take on Rule Breaker Snacks
I've actually tried these before. My oldest daughter had some the last time she visited. We tried the Deep Chocolate brownies and they were yummy. I did not know the ingredients before tasting it and you'd never know it was chick pea based.
Since going on a keto diet, I am really watching my carb intake. These would put me over the top, but when I ditch this diet I'll probably order some. I too have a sweet tooth and this is right up my alley for healthier eating.
Will Sharks Like These Bites?
There are more and more plant based snacks coming into the Tank the past few years. All of them don't get a deal, but many do – particularly if they're tasty. Lori and Mark are both vegan and they are usually very interested in products like these – if the price is right. With a $4 million valuation, she better have some good numbers.
One thing she mentions in her Kickstarter video is that she's a small company. She's obviously the founder and creator, but how small is small? She most likely wants a Shark to help fuel her growth as she rolls out to more national chain stores. I'm thinking Lori or Mark (or both) jump on this. The others might bid too, but my money's on Lori or Mark.
Find out more about this company HERE.