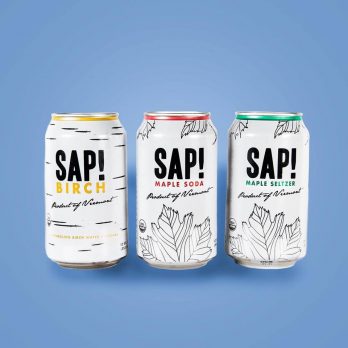 Sap Maple Soda creators Nikita Salmon and Chas Smith grew up drinking maple sap from buckets in their family's maple tree forest in Vermont. The family has over 300 acres of trees they've been "harvesting" since the 1950's. They also harvest birch sap. The two cousins were brainstorming business ideas and when they came up with the idea for Sap Maple Soda, they leapt into action.
They keep everything in Vermont, from the trees to the canning facility, so it's a real home-grown product. Sap Maple Soda comes in three flavors: birch water, maple soda and maple seltzer. Most people have an idea what maple soda will taste like, the birch water apparently has hint of a raspberry taste.
Soda sales have been declining for years as people seek out healthier alternatives. Sap Maple wants to be one of the companies to fill the gap. Whole Foods has the product in many stores in the Northeast and they see Sap as part of an "entire booming category of sparkling beverages vying for consumer attention."
Whether their soda is the next big thing or just a fad, Nikita and Chas are all in. They've raised over half a million dollars from friends and family. They are on the cutting edge of a new trend in the beverage industry as their drinks are full of nutrients, anti-oxidants and 100% pure. People don't want soda, they want Sap! The question is, will a Shark like sap?
My Take on Sap Maple
I've tried raw maple sap before at the "sugar shack" at an organic farm in the town where I lived in Massachusetts. Every spring, they tapped maple trees and made syrup. Visiting the sugar shack was always on the field trip list for local schools and I chaperoned many a trip there with my kids' classes. One of the perks was a taste of raw sap and a syrup sample to take home.
I wish this stuff was available in Florida, it sounds delicious. I don't drink any kind of soda ever any more, I'm pretty much an iced tea guy. I'll occasionally have a seltzer water if I want something fizzy (perhaps with some vodka). I may order it online as it's about two bucks a can, but I'd rather get it at my local Publix. I am so in!
Will the Sharks Tap into this Beverage Trend?
I think the Sharks will like the drink and I think it's a perfect fit for Rohan Oza. He's an expert with food and beverage businesses and he can make Nikita and Chas RICH. If they get any kind of offer from Oza, they better take it. If they do, Sap Maple will become a household word.