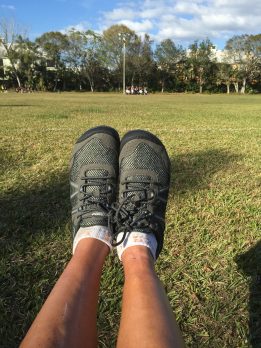 I just received a pair of TerraFlex running/hiking shoes from Xeroshoes. It's their latest "model" and I couldn't wait to take them for a test drive! They're built on the same "natural movement platform as the Prio, but they have traction soles for more rugged terrain. The mesh uppers keep things cool and a thin layer of "Barefoam" in the sole gives you just enough cushion while still allowing you to "feel the world."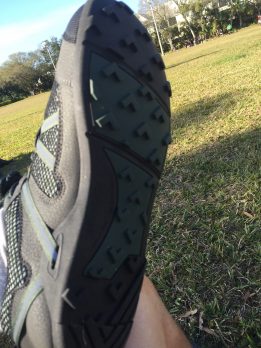 The TerraFlex comes in men's and women's styles and is available in either black or green (pictured). They go on sale next week – February 13 at $99.99.
My Take on TerraFlex
Just like all my other XeroShoes (I now have six pair including the original Invisible Shoes), there is plenty of toe room. I have wide feet, so that's important to me. There's a little extra padding in the toe bumper on these shoes, presumably so you won't stub your toe while hiking. My days of long hikes are over, but these were very comfortable to wear to my daughter's soccer game.
The TerraFlex doesn't disappoint for comfort. Wearing any XeroShoe is almost like wearing no shoes at all and these are no exception; they're very light.
I almost feel bad getting these for review. I love these shoes so much – I have since my first pair – that I feel like I can't be critical enough! I wear my sandals constantly, I wore the Ipari Hanas to my daughter's wedding, I wear the Daylite Hikers to the fishing pier all the time and I wear my Prios to the gym. In fact, the only other shoes I own are patent leather loafers, flip flops and crocs. XeroShoes win by majority in my closet. The TerraFlex will probably become my sporty shoes I wear to soccer games and such.
If you'd like to order a pair, click HERE (they're on sale!)
If you're in the market for some new shoes, try the TerraFlex. Check out this video of my first "test drive."