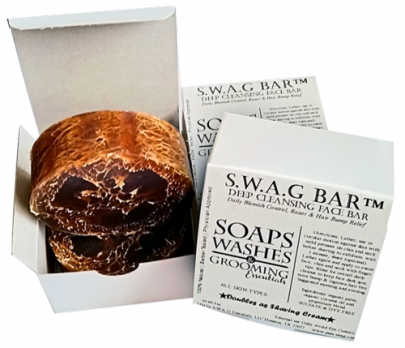 Lydia Evans created SWAG Essentials, her skin care for men product line, when her brother asked her to make a product to relieve ingrown hairs and razor burn. Evans, a Licensed Medical Esthetician, pitches SWAG Essentials in Shark Tank 613. The bold and brassy entrepreneur makes quite an impression and may forever be remembered in Shark Tank lore as the woman who tells Daymond she likes "long, romantic walks to the bank!" Whether her personality gets her an investment remains to be seen.
One thing is for sure, Evans has a unique product line. There aren't many companies that promote skin care for men, other than the folks who peddle after shave! SWAG (short for Soaps, Washes And Grooming) Essentials' "flagship" product, the SWAG Bar, cleanses, exfoliates & disinfects the skin while working up a rich lather. Guys don't have to worry about nasty rashes from shaving anymore. Evans claims it's the only product of its kind. The SWAG bar comes with or without loofah and is physician tested and recommended for all skin types.
SWAG Essentials is a business in its infancy, but they've proven the concept. Available online and in some Houston area boutiques, the product is selling and the business needs that extra push to grow.
My Take on SWAG Essentials
I hate razor burn. It hurts and it looks like crap. If I could grab a bar of soap that would eliminate the problem, I'd buy it. I use glycerin soap all the time, but the SWAG Bar has other ingredients in their "proprietary blend." There are a lot of soaps on the market, so it's a tough business to get into, but it's also very profitable.
Soap is a basic necessity, too. If you're going to have it in your home, it might as well do a good job! Ms. Evans has what I believe to be a solid product. I like it, but will the Sharks?
Do Sharks grab some?
Soaps, scrubs, and cosmetics are a mixed bag on Shark Tank, but there are some very notable success stories. Nardo's Naturals from season three has done well. Simple Sugars from season four is killing it, too. Will SWAG Essentials join these elite entrepreneurs as a skin care Shark?
SWAG Essentials is in Houston, in Mark Cuban's neighborhood. Cuban scored big with Simple Sugars, maybe he'll take a flyer on a home-state skin care business. I can't see Robert or Mr. Wonderful going in on this, but Daymond and Lori might. The promos are hyping the interplay with Ms. Evans and Daymond, but that could be a smoke screen. Lori will go in if she thinks it can sell on TV.
What makes me think they get a deal is SWAG Essentials used to be a men's only skin care line. They recently added a new product line called La Bella Dolce that sells women's skin care products – including a sugar scrub. This could be an indicator of a Shark's involvement: Sharks want to sell to as many people as possible and adding a women's line could be a "condition" a Shark insists on.
The other thing that makes me think SWAG Essentials gets a deal as they are throwing a viewing party. It's hosted at Mosaic, a trendy Houston nightspot. What caught my eye about the viewing party was they are offering bottle service at the party. BOTTLE SERVICE! That screams "Shark." Mark is a beer guy, so it probably isn't for his benefit, but Daymond is a New York club hopper; he likes bottle service. The fact that a business would go for that sort of extravagance at a viewing party tells me there may be a Shark at Mosaic that night.