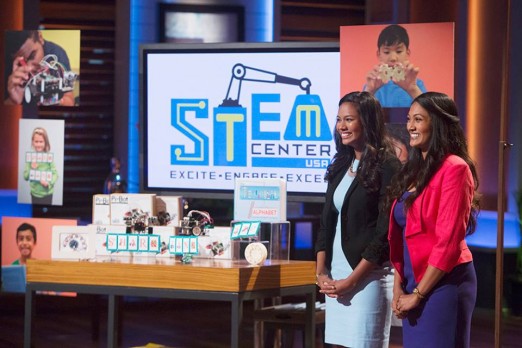 STEMCenter USA's Lavanya and Melissa Jawaharlal are sisters who share a vision for how we educate children in Science, Technology, Engineering, and Math (STEM). They believe kids should be exposed to STEM as young as possible and they provide classes in their STEMCenter Learning Center in Pomona, CA to kids as young as 4 years old. Using robotics and their patented PI Robot kits, they make learning STEM related topics fun and accessible to kids.
STEMCenter is an after-school program, providing a wide variety of classes on a membership basis. A yearly membership (around $1300) gets a student access to an unlimited number of courses. Materials for each course (such as a robot kit) cost extra. They also go "on the road" to schools, bringing their STEMCenter curriculum with them.
Their mission is simple:
"STEMCenter USA inspires the next generation of STEM leaders by developing a passion for STEM careers at a young age and maintaining interest throughout middle and high school. We provide students with an experiential education that excites, engages, and enriches through a unique, learn-by-doing curriculum.

We believe that true learning takes place when a student is allowed to discover the underlying principles through a hands-on, experiential, learning model. By providing opportunities to be engaged in a learning process that excites, energizes, and exposes them to a wide variety of skills and concepts, STEM Center students will discover a path that will enable them to have a more productive education."
Educating kids is one of the most noble endeavors anyone can undertake, whether it's done for profit or not. STEMCenter USA reflects a growing trend of "privatized education." Businesses like Sylvan Learning Centers, Kumon, and the countless "test prep" companies have been around for years, and more spring up every year to further support students or to fill what parents believe is a void between what schools offer and what they deliver. Whatever parental perceptions may be, STEM based learning is an important part of the future of education in the USA and entities that teach it effectively will be in high demand.
My Take on STEMCenter USA
I just LOVE what these two young women are doing. Educators that inject a lively interst and passion in teaching make our country and our world a better place. I believe STEMCenter's curriculum, or similar ones, should be in EVERY school.
Two of my college aged children study the sciences. One is a grad student in the field of nutritional microbiology and the other is a senior in a marine sciences program. The other two college kids are freshmen and haven't declared a major, but one is leaning toward Engineering and another toward computer design. Our grade-schooler has an interest in chemistry – she wants a periodic table for her birthday!
My kids' interest in STEM related subjects was partly due to the number of educators and engineers in our family and partly due to attending schools that stressed teaching STEM subjects vigorously and early. The middle school my two oldest attended used a "guided discovery" philosophy, similar to STEMCenter USA's. Our grade school child has school choice for middle school next year and we are leaning toward a school that has a STEM-centric curriculum.
I am 100% IN on this one!
How do Sharks value STEM?
Lavanya and Melissa are both very smart young women. The Sharks will like that. They'll also like the fact they raised over $100K on Kickstarter to get their affordable robot kit, used in their learning center, built – it shows proof of concept.
Kevin O'Leary has a background in educational software, so he understands the business side of for-profit education. He, like the other Sharks, will want to see profitability and scalability in their business model. If STEMCenter can duplicate their Pamona location anywhere in the world, they could have a business more than one Shark is interested in. I think ALL the Sharks will love what Lavanya and Melissa are doing and applaud their efforts.
I really can't see Lori getting involved, nor Robert. Kevin is the likely target with his background, but Mark has a history of investing in businesses that do the right thing, so he could be a potential bidder. Chris Sacca could also have an interest – STEMCenter is educating the next generation of Silicon Valley tech entrepreneurs. The company recently moved into a much larger space for their learning center – a sure sign of capital getting injected into the business. I predict STEMCenter does a deal with Mr. Wonderful and possibly one other Shark.