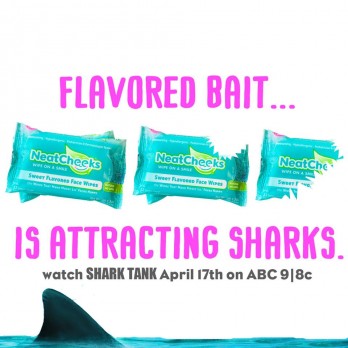 "Momtrepreneurs" Danielle Stangler and Julia Rossi are like most moms: they want parenting their small children to be a little bit easier – that's why they created a business out of Neat Cheeks. The sweet-flavored face wipes do just that. Instead of making a kid squirm with yucky, alcohol scented face wipes, Neat Cheeks make kids savor the moment. Instead of a strong, chemical scent, the NeatCheeks moms use Stevia to give their wipes a sweet aroma and taste.
If you've ever accidentally put your tongue on a face wipe, you know it's not pleasant. Kids don't like it either, but they LOVE Neat Cheeks. They aren't only sweet, they're gentler than "regular" face wipes too. The liquid that moistens Neat Cheeks contains Stevia, purified water, aloe, and honeysuckle which make these wipes less harsh on kids' sensitive skin. A new twist on face wipes might not seem revolutionary, but the pair have a patent pending on the product, assuring it's the only wipe of its kind.
My Take on Neat Cheeks
The old saying "happy wife means happy life" applies to moms in particular. If mom is frazzled, chances are everyone else at home will be too. The smallest convenience can make the difference in mom's day – even wiping off a messy kid. Why NOT make it an easier task? As a father of five, I gave up arguing about the "little things" a long time ago. An extra dollar or two for a simple convenience doesn't phase me.
I think the idea is sound. It makes kids' lives easier too. Who wants an alcohol drenched wipe dragged across their face – certainly not me! We are beyond the face wipe stage in our house, so I am not a customer, but I know moms will like this product. My 18-year-old said "why didn't we have these when we were little?" My answer: "they weren't invented yet!"
Will Sharks Clean Up?
The best thing NeatCheeks has going for it is the patent. Patented consumer products are a special thing with a lot of upside. The Neat Cheeks moms got a lot of good press and they have some solid distribution going into the Tank which should impress the Sharks. If the numbers look good, I'd expect at least one offer.
Lori invested in ReViver earlier in season six. It's similar in that it's a disposable clean-up product. I wouldn't be surprised to see her make a bid for Neat Cheeks. I am not sure about the other Sharks, but I think Neat Cheeks will clean up with or without an investment.