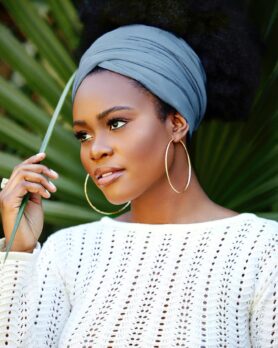 Monique Little invented her You Go Natural Head Wraps to keep her textured hair soft and protected. She brought in her brother, David Dundas, to supercharge her marketing. When that happened, the company became a thriving business. Monique starrted making the satin lined head wraps in her mom's living room. They aren't there any more.
Now, you can order the hundreds of styles and patterns from the You Go Natural Head Wraps website or find them in Urban Outfitters and Target. They're out of the living room too. Now, they're in an 8000 square foot manufacturing facility in Dallas and they're hiring!
The wrapes are all line with satin to insure the breatheability and washability of your wrap. All You Go Natural head wraps, headbands, turbans, and durags are lined with satin. The products are made for men and women with textured hair. Monique and David are looking for a Shark to help springboard their growth.
My Take on You Go Natural Head Wraps
As a follically challenged guy, these products are not for me. My oldest daughter has wild textured hair (a family trait from my father's side i did not inherit) and owns several satin lined turbans. I am not sure of the brand, but she's had them a while. I joke around with her when I catch in one and ask her "Genie, may I make a wish?"
While it's not for me, I see a good business with solid sales. You Go Natural Head Wraps has sold over 70,000 units which translates to somewhere in the neighborhood of $2.8 million in lifetime sales. While I won't be a customer, I admire the numbers.
Do Sharks wear Head Wraps?
Back in season 13, Lori and Emma Grede invested in a company called KIN. That company makes satin lined hoodies and targets people with textured hair. That will be a conflict for Lori, so she'll be out. The fact that Mr. Wonderful is bald could scare him away, but if there's room for royalties, he'll make an offer.
Daymond could be a player here too if the sales and the brother and sister duo impress. The fact their facility is in Dallas makes me wonder if Mark gets involved. I'm not sure they'll leave witha deal since they have other investors. A lot of times that keeps the Sharks at bay.