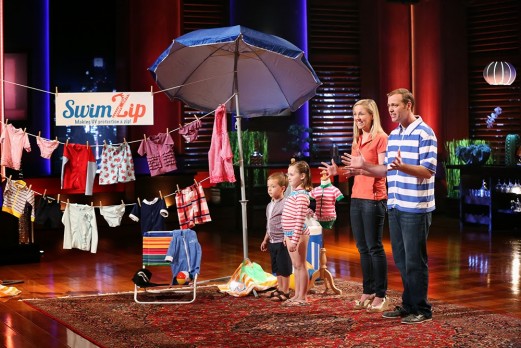 Taking a business from initial idea to successful company takes a lot of hard work and alternative financing options. In the early days, you don't have a proven concept so you bootstrap enough money to get your idea up and running. You spend endless hours of sweat equity to get a working prototype together. Sales start to take off and the potential is exciting. Giving up equity when your company is on the brink of success is a big deal. If you watched last week's Shark Tank you could see a big difference of opinion between SwimZip siblings Betsy Johnson and Berry Wanless.
Betsy believed they needed a Shark's experience to help take SwimZip to the next level, no matter the equity stake. With or without a Shark, Berry believed they would become a $5 million company. Berry had reason to hesitate because there are many ramifications of an equity partner. You need to thoroughly assess the advantages and disadvantages to determine what's best for the future of your budding business.
Pros
They give you much-needed money
You benefit from their business expertise
Cons
X% of profits go to the investor, even if you no longer need their money or if your company isn't doing well
Equity investors actively influence decisions that impact your business
If you need more money, they may or may not provide more cash and could increase their equity
Alternative Financing instead of Equity
Getting a deal from a Shark does not ensure success. That's why it's important to know all of your alternative financing options. Purchase order financing is an alternative financing tool that offers more flexibility than an equity partner. The loan basis can be adjusted up/down as needed and much faster than raising more equity.
If SwimZip receives a big order from Target tomorrow, they need to know they can fulfill the order. Many manufacturers need upfront payment to fulfill a large order, but SwimZip's invoice to Target is paid in 60 – 90 days. This is a classic working capital gap. With purchase order financing, your supplier is paid to produce your goods and you fulfill your order without a complete cash flow crunch. The transaction is complete once you ship the goods and your invoice is paid.
You'll want to meet with an alternative financing expert in advance. Many large retailers will ask if you have financing in place to fulfill a large order before they place their order. Plan for the big order now and be ready for growth.
Most importantly, make sure you and your business partners are on the same page. SwimZip came dangerously close to losing a deal with Lori because they each had different ideas on how to grow the business.
Dan Casey, founder and CEO of accountsreceivablefinancing.com, believes every business has a story to tell. He's been listening and helping small businesses grow exponentially since 2002 using a creative combination of alternative financing tools. He's been featured in publications including Entrepreneur Magazine, Entrepreneur Online, Small Business Trends Online, The Washington Post, Crain's Chicago Business & American Express Open Forum. 

Visit www.accountsreceivablefinancing.com and be sure to mention Shark Tank Blog to get a free subscription to Fast Company or Entrepreneur magazine.*
*Must qualify for financing to receive special offer exclusively for SharkTankBlog.com readers.