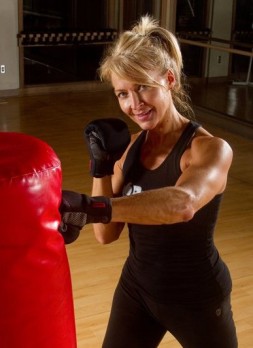 I spoke with Katrina Shaw who recently attended the Atlanta open casting call for Shark Tank season 6. Katrina is a second degree black belt with a fitness business called BoxMania. She lives in Mobile, AL and traveled to Atlanta for an open casting call on January 11. Katrina reads The Shark Tank Blog and is a member of the Shark Tank Blog Community on Facebook. We connected and she shared some insights about the open casting call process with me.
Our new friend Katrina attended the January 11 call in Atlanta at the Fox Theatre. She pitched her varied business ideas centered around her fitness program called BoxMania. "It's a fitness business based on martial arts and boxing," she explains, "I travel around the country and train fitness trainers at clubs. I also have a DVD out which I am planning on marketing."
Open Casting Call Details
People find their way into the Shark Tank through a variety of ways: the producers recruit them, they send in an electronic application, or they attend an open casting call. As of this writing, there are two open casting call locations listed on the ABC website.
Katrina made the two and a half hour drive to Atlanta on Friday, January 10. "I got a hotel close to the Fox Theatre," she said, "after I checked in, I went over there and they informed they wouldn't allow people to line up overnight. It's a good thing, because it rained all night long. They allowed people to line up at 5 am on Saturday, so I went to the deli at 3:30 and got to the theatre at 4 AM. I was 17th in line and I was under a covered area. It was raining so hard with very violent winds. They gave out wrist bands at 9 AM and let people in fairly quickly after that. I spoke to people who drove 12 hours to come; there were hundreds of people in line – less than I expected, but I think the terrible weather kept people away."
"Once we got inside," she continued, "they had tables set up and they were feeding people to the tables. Each business gave their pitch to one person. I heard they gave people in line set times to come back; I don't know if they always do that or if it was because of the weather. When it was my turn, I spoke with the production person for 4 or 5 minutes. I gave the girl a DVD, and left a package of articles about me with her."
"I was thrilled to have the opportunity but I have more than one product, so it was overwhelming how to figure out explaining different facets of my business. I have my DVD, training business, apparel and I want to design fitness equipment. I know I would like to be part of show."
"They made an announcement and said you could hear something within next two weeks, two months, or six months. People who tried out will only hear from them if they are interested."
The Shark Tank Blog hopes Katrina hears from the show. I'd love to interview her next year as another Shark Tank success!