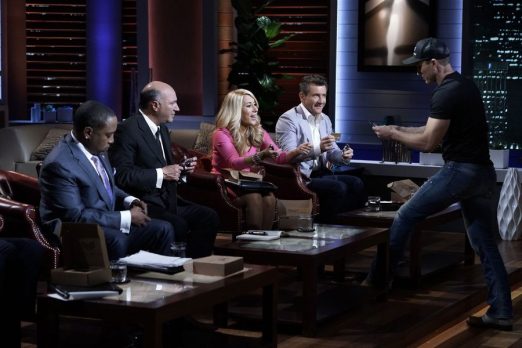 Entrepreneurial brothers Trevor and Justin Johnston show the Sharks their Wallet Buckles, a belt buckle that doubles as a wallet, in episode 824. The guys like going to concerts and out on the town, but they didn't like lugging around a wallet to carry cash, ID and credit cards. They figured putting everything in a belt buckle made a lot of sense.
The Kickstarter crowd thought the idea made a lot of sense, too. The brothers raised over $40,000 in June 2016. They needed the money to finalize the tooling and have retail displays made. While there were some delays in delivering, they appear to have gotten over the hump and shipped product to their backers.
They have hundreds of designs and initially catered to a decidedly country music crowd. They showcased their products at many country music festivals with pretty girls wearing tee-shirts that said "ask me about my buckle." They want to get into licensing, too.
The product has major mass appeal and literally any design can go on it. They are looking into a customized option, too. Both men and women can wear them and they claim women love them because they don't like carrying a purse on a night out. What the business needs is to get the word out about the product because it's one of those things everyone will want. A Shark can certainly help with that.
My Take on Wallet Buckles
This is one of those "why didn't I think of that" ideas. I think it's very clever and convenient and would certainly want one in my wardrobe. Many of their designs are a bit too "country" for my tastes, but they'll have many more designs coming out that will appeal to me.
As a convenience, this can't be beat. I am always afraid of losing my wallet when I go to a crowded event and Wallet Buckles allay that fear. It's great for every day use, too. I think this is an awesome product and I am in.
Will the Sharks Buckle Up?
Obviously they will think it's clever. The biggest objection could be "it's a product, not a company." That said, just about everyone owns more than one belt, so there are a ton of potential customers. Educating consumers could be a challenge too – it's not hard to understand, it's getting them to know it exists.
Valuation is going to be a big issue for this pitch because there is a lot of work to do. It needs a lot of marketing to grow quickly and the Sharks shy away from those types of businesses. If Justin and Trevor give up a big enough chunk, they'll garner interest because it's so unique.
I think Lori is the best fit for this business because she can get it out on TV quickly through QVC and other outlets. Despite Mr. Wonderful's protestations, she's still the Queen of QVC and I bet this would sell well there. I predict they do a deal with Lori!