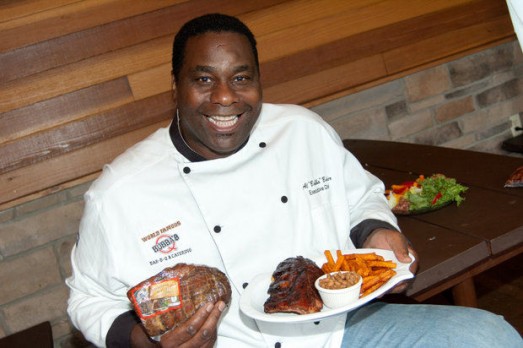 Former NFL defensive Rookie of the Year Al "Bubba" Baker took to the kitchen when he retired from football and he's cooking up some of his famous "patented" boneless ribs in the Shark Tank in episode 513. Al's been making award-winning barbecue in Cleveland since he retired from the Cleveland Browns. Barbecue is in his blood: his family owns Jenkins Quality Barbecue in Jacksonville, Florida (there are three of them). My Jacksonville friends tell me the place is ridiculously good. Quality barbecue is one step closer to heaven: if you haven't had good barbecue, you haven't really lived!
It was Baker's wife, Sabrina, who was the inspiration for Bubba's boneless ribs. When he brought her to the family restaurant in Jacksonville for the first time, she said ribs were "too messy." That didn't exactly endear her to Baker's family, but luckily, Mr. Baker overlooked her one "shortcoming" and kept her around. She runs the business end of Bubba's Q while Al mans the kitchen.
The thought of ribs being "too messy to eat" gnawed at Baker for years and he eventually patented his boneless ribs which eat like a steak, but are ALL RIB. He has a patent on the boneless ribs product and the process for de-boning them. They've been a restaurant staple for years, but Bubba's got plans to go national. He recently began mass producing them at nearby  Heinen's Supermarkets' production facility, but the boneless ribs are still a regional play. Baker wants the Sharks to take him national.
My Take on Boneless Ribs
I like ribs. We smoke them and barbecue them at home a lot. Everyone in my family begs me to cook them more often. While we don't share Mrs. Baker's disdain for the mess, I can see the convenience of eating boneless ribs with a knife and fork. You could actually eat Bubba's boneless ribs in your Sunday best!
Do Sharks Eat Ribs?
Food products are always touch and go in the Shark Tank, but a good product can (and often does) attract Sharks and their money. The Sharks will like the fact that they can eat Bubba's boneless ribs in their fancy Shark suits, but even if they're off the wall good, Mr. Baker better know his numbers. Margins are tight in the food business and the Sharks will disregard him if he doesn't have his figures and valuation in order.
The one thing that will intrigue the Sharks is his patents. It's very rare that FOOD gets patented, so boneless ribs are, and will continue to be, unique to Bubba's. Bubba also sells his "famous" barbecue sauce, which could be a nice add-on product in the Sharks' minds.
I don't think Lori will go for this; she's invested in food products before, but her comfort zone is products with mass appeal that she can sell on TV. She'll like the ribs, but she'll take a pass. Any of the other Sharks could go for Bubba's. Mr. Wonderful will likely try his increasingly tiresome "royalty offer," but Baker won't go for that.
Robert may offer something, so might Mark, but I think Daymond goes in on Bubba's boneless ribs. In the promo that aired after the last show, he has a sound bite where he says "let's de-bone this pig!" It looked like he was excited about something and I think that something is the boneless ribs. He'll like that he won't have to mess up his fancy suits while eating barbecue! I think Daymond gets into the boneless ribs business. I'm ALL IN too, with a rack of boneless ribs, a side of slaw, and some sweet potato fries. And please pass the sauce!