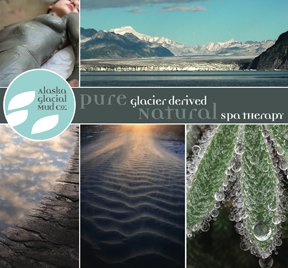 Alaskan entrepreneur Lauren Padawer pitches her Alaska Glacial Mud Company to the Sharks in episode 514. The Alaska Glacial Mud Company is a line of mud masks and other skin care products that uses mud harvested from the Copper River Delta in Alaska as its primary ingredient. The mineral-rich, glacial mud has over 60 naturally occurring minerals that are good for drawing impurities from the skin and the salt in the mud is an excellent natural exfoliant.
The Alaska Glacial Mud Company caters to the high-end, socially conscious consumer of skin care products. The company uses all natural ingredients and is cruelty free. The company web page claims the products contain "the most mineral-rich and pure mud in the world." Lauren, who started the business in 2006, is likely looking to the Sharks to get wider distribution and a cash infusion.
Alaska Glacial Mud Company Shark Tank Recap
Lauren enters the Shark Tank looking for an investment of $100,000 in return for 20% equity in the company. She presents the idea that the glacial mud has the nutrients and consistency to be used as a spa product. She passes out samples of the products, and offers Kevin O'Leary a "glacial facial," painting mud onto his face.
Sales have been averaging around $36,000 a year, by wholesaling it to spas "all around the world." A jar retails for $34, and costs about $3 to produce. Lori Greiner explains that breaking into the spa market is extremely difficult, and for that reason, she goes out.
Lauren has invested $50,000 of her own money. Mark Cuban tells her that she needs to find a "pull through," that she needs to connect the brand with something to inspire people to buy, by building the brand upon something that already exists.
Robert Herjavec believes that she doesn't yet have a brand, and isn't ready to go to the global market. He tells her she could spend "millions" educating the public, but she's not there yet. He's out. Barbara Corcoran believes that she needs to choose between the wholesale and retail markets. She, too, believes the brand isn't there yet. She's out.
Kevin O'Leary says he "can't go down the river with you," because he already has "mud on my face." Surprisingly sincerely for his usual Mr. Wonderful persona, he advises her that a company that's selling $36,000 a year is a "hobby," and that while he's "looking for every possible reason to invest," he's out.
Alaska Glacial Mud Company Shark Tank Update
Lauren refuses to be discouraged by the failure to get a Shark deal, and she continues to build her brand. The website still offers Alaska Glacial Mud for sale, and the social media for the brand is active. It seems Lauren has taken some of the Sharks' advice to heart, continuing to grow her brand and carve a niche in the very narrow and competitive spa market. Little by little, she's grabbing her slice of the mud pack pie.
Lauren added soaps, cleansers, toners, serums and a variety of other skin care products based on the Alaskan mud. In 2020, she rebranded the company to Alaskan Glacial Essentials to better reflect the broader range of products she introduced. As of January, 2023, she's still in business and has revenue of $275,000 annually.
Posts About Alaska Glacial Mud Company on Shark Tank Blog
Company Information
Get Alaska Glacial Mud Company Mud Mask