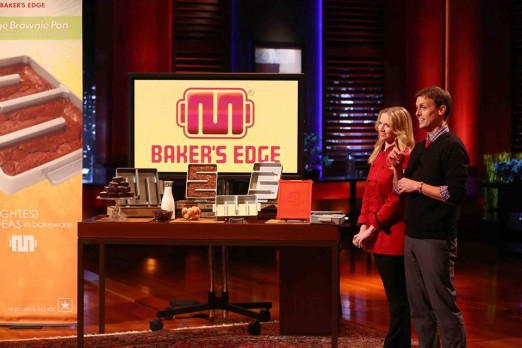 Matt and Emily Griffin want to cook up an investment in their successful bake ware company, Baker's Edge, in the Shark Tank season 5 finale. Matt came up with the original Baker's Edge product, a brownie pan the gives every brownie in the batch that "corner crust,"  in 1998. After several years of designing the pan, the couple went full-bore with the idea in 2002, emptying their bank accounts to patent the design and produce the first prototypes.
The big break came in 2004 when they won $25,000 in the "Ideas Happen" contest, sponsored by VISA and MSN. Since then, they've sold a TON of Baker's Edge brownie pans and introduced a lasagna pan and a muffin pan. Next up for the Griffins and Baker's Edge is a cupcake pan. They sell their products on Amazon all over the world.
They are likely looking to the Sharks to help them get the cupcake pan off the ground and get even wider distribution for their product.
Baker's Edge Shark Tank Recap
Matt and Emily enter the Tank seeking $400,000 for 20% of their business. They tell their story and give their pitch while they demonstrate the product. Part of their plan is to do a line of conventional bakeware too. They do have patents. The company got started in 2006 and has $6 million in sales to date (September 2013). Current year sales are $250,000. They got a big spike in sales of over $2 million a few years ago when Oprah touted the product.
Lori says she saw the pans on QVC but Matthew says those were infringement products. They sued the infringers. The company is about to introduce the Better Muffin Pan. It will sell for $35.95 – just like the brownie pan. When asked about the valuation, Matthew defends it because they have patents.
Mark thinks they need new ideas to grow, but he doesn't think the Better Muffin Pan is it; he's out. Robert doesn't like that the couple is comfortable with the decline in sales; he's out. Kevin doesn't think the muffin pan will change the world; he's out. Lori doesn't think the muffin pan is the next big thing; she's out. Barbara isn't confident in the products; she's out too.
Baker's Edge Shark Tank Update
The Shark Tank Blog constantly provides updates and follow-ups about entrepreneurs who have appeared on the Shark Tank TV show. Since appearing, they introduced a Lasagna Pan as well as the Better Muffin Pan. The business continues to sell well on Amazon. In April, 2022, the company was acquired by Sorfeo for an undisclosed amount. Sorfeo is a consumer products company that Mark Cuban owns a piece of, so they caught a Shark in the end after all!
Posts About Baker's Edge on Shark Tank Blog
Baker's Edge Information
Video: