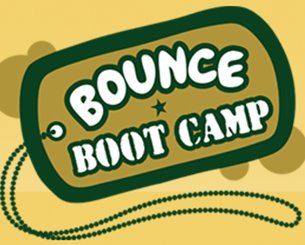 Bounce Boot Camp is the brainchild of certified fitness instructor and former Green Bay Packer Thomas Hill. Hill and his wife Jane started a "bouncy house rental" business back in 2004 and soon realized, after a ten minute bouncing session with their daughter, they had a good vehicle to create a fitness program around.
The Bounce Boot Camp curriculum includes leadership training, nutritional counseling, strength building, cardiovascular conditioning, and a whole lot of bouncing fun. Kids sign up for a series of boot camps in their community with prices starting at $60 for four sessions. They also bring their inflatable fitness center to corporate events for team building days. Bounce Boot Camp is looking to franchise, with operators in  Paradise Valley, AZ; Chandler, AZ; Peoria, AZ; Tulsa, OK; Tyler, TX; Atlanta, GA, New Orleans, LA and the original Bounce Boot Camp in Scottsdale, AZ, they're well on their way!
Hill and family are likely looking to the Sharks for a strategic partnership and for growth capital.
Bounce Boot Camp Shark Tank Recap
Thomas enters the Shark Tank looking for an investment of $30,000 in exchange for 20% equity in Bounce Boot Camp. He presents the Sharks with the concept, highlighting the problems of obesity in children and the difficulties of getting kids off the couch and moving.
Daymond John, Robert Herjavec, and Mark Cuban actually try out the inflatable obstacle course, discovering it's not as easy as it looks to clear the course, much to the amusement of the other Sharks.
He explains that the camps are run in schools, rec centers, and any other space that can be rented and is open to the camps. He calls it a "business in a box." The inflatables fit into a 6'x12′ trailer. Thomas hopes to license the camps out across the country.
In the first year, Thomas has done $43,000 in sales, working 1 day a week. In the past month, he's made $2,500. The overall cost of a franchise would be $40,000, including the trailer and inflatables.
Mark Cuban wants to know what Thomas is doing the other 6 days a week. He responds that he's a full time pharmaceuticals salesman. Cuban doesn't believe he's "a business that's ready to take on an investor yet." He's out. Lori Greiner agrees with Cuban. She believes "there's not something to invest in at the moment."
Kevin O'Leary doesn't believe the business is proprietary. Since Thomas hasn't been able to sell any franchises yet, he's out. Thomas makes an impassioned plea, but Robert Herjavec agrees with the other Sharks. He believes it's too soon, and he's out. Daymond John is the last Shark. He, too, believes that it's too early. He's out.
Bounce Boot Camp Shark Tank Update
In spite of the failure to get a bite from the Sharks, Thomas has taken their advice to heart and continues to focus on growing his business. He's lowered the initial franchise cost to $30,000, which may be more in line with what franchisees would be willing to pay for their own "business in a box."
A brief video on the website reveals that he's partnered with several local Subway restaurants to offer Bounce Boot Camp attendees discounts and other incentives. With several celebrity and sports star endorsements, it seems as if Bounce Boot Camp will continue to grow and get kids up off the couch.
At some point, they stopped offering franchises, but as of November, 2022, they are still in business earning $1.5 million in annual revenue.
Posts About Bounce Boot Camp on Shark Tank Blog
Company Information