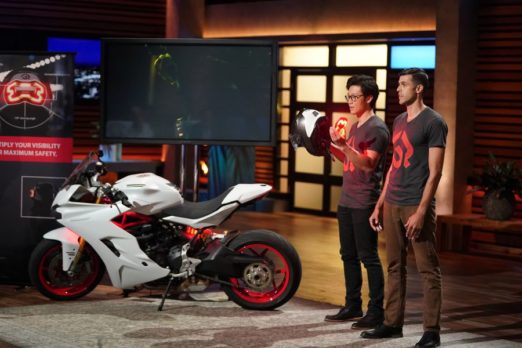 Henry Li and Alex Arkhangelskiy hope for a deal for Brake Free, their smart LED brake light for motorcycle helmets, in Shark Tank episode 1125. Li got the idea while working for a silicon valley tech entrepreneur. As an avid motorcyclist, he's concerned with safety, so he recruited a team to help develop the product. the first prototype was completed in 2014.
What makes Brake Free safer than the lights already on a motorcycle is the helmet is at eye level for other drivers. Motorcycle brake lights are too low and too small. The lights, which are actually a series of small LED lights, intensify when braking or decelerating. No new equipment is needed either, the light secures onto the back of any motorcycle helmet. It's a truly wireless unit that "knows" when to light up through what Li calls "gyrometer and accelerometers with a powerful and patented brake detection algorithm." In other words, it's a smart brake light.
The company really got going in April, 2017 with an IndieGoGo campaign that raised $259,797. Manufacturing delays and shipping issues delayed the delivery of some pre-orders as late as Spring, 2020. They've since worked things out as they are selling Brake Free for $169.99 on their website. They also offer several accident protection plans. Given the difficulties they had with manufacturing, they likely want a Shark who can help them navigate that aspect of the business. Will a Shark "brake" out some cash and invest?
Company Information
Video

Posts about Brake Free on Shark Tank Blog
BrakeFree – Helmet Mounted Brake Light
Brake Free Shark Tank Recap
Henry and Alex enter the Shark Tank seeking $200,000 for 10% equity in their business. They tell their story and give their pitch, then hand out samples. They tell the Sharks about their IndieGoGo sales and costs. Each unit costs $43 to make and they sell for $169. They want the Shark money to scale things up.
Barbara tells the guys she should be grabbing at this because her brother was disabled due to getting hit by a truck on his motorcycle, but she doesn't have confidence they could sell this; she's out. Lori loves the product but doesn't invest in products where there is a potential liability; she's out. Robert thinks it's a great product, he offers $200,000 for 20%. They want to hear from Mark and Robert is a little miffed. The guys ask if Mark and Robert would team up and the Sharks agree. The result is a deal with Mark and Robert at $200,000 for 20%.
Brake Free Shark Tank Update
The Shark Tank Blog constantly provides updates and follow-ups about entrepreneurs who have appeared on the Shark Tank TV show. The deal with Mark and Robert never closed. The guys didn't need the money. As of June, 2021 (six months after airing in December, 2020), they sold over 7000 units to the tune of over $1.1 million in sales. Currently, they're selling in the USA but they want to be a global brand in the future. 2021 revenues are projected at $3 million. As of August, 2022, they are still in business and they reached their 2021 revenue goals.
In January, 2023, 2022 revenues were estimated at $3.9 million. As of October 2023, the company is still going strong and should hit $4 million in sales.