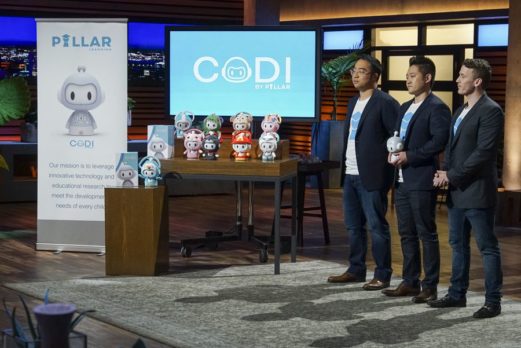 William Mock, Dayu Yang and Chris Oslebo seek an investor for Codi, their story telling, educational robot, in Shark Tank episode 1125. Codi is the flagship product of their company, Pillar Learning. Pillar was co-founded by Yang and Oslebo in December of 2017. They both have strong backgrounds in product development, manufacturing and e-commerce. Mock, a former kindergarten teacher with a Master's degree in Education joined the firm in March, 2018. The three They tell their story current and aspiring parents' mission is "to leverage innovative technology and educational research to meet the developmental needs of every child."
Codi uses artificial intelligence and voice enabled learning algorithms to deliver appropriate, individualized content for children. In lay terms, he sings songs, tells stories and engages kids in simple activities like cleaning their room or brushing their teeth. The content that's delivered is based both on their interests and their parents' wishes.
The robot is a cute, 8.5 inch tall guy with big eyes, a light up antennae and ears that change colors. He comes with plush "pajamas" kids can dress him up with. Parents maintain control with a mobile app that interacts with his computer chip. A new robot will cost you $125 and outfits are ten bucks each. They're available on Amazon and the company website. The guys likely want a Shark's help with marketing and distribution. Will a Shark want to play with this toy?
Company Information
Video

Posts about Codi on Shark Tank Blog
Codi Shark Tank Recap
William, Dayu and Chris enter the Shark Tank seeking $500,000 for 10% equity in their business. They tell their product's story and give their pitch. The Sharks all get a sample Codi. They cost $25.76 to make and retail for $149.99. In the past year, they had  $260,000 in sales with a gross profit margin of 10%. Plans for the future include a paid version of the Codi app.
Lori thinks it's a competitive market; she's out. Robert thinks the guys are good project managers but he thinks kids will get bored with it; he's out. Barbara doesn't think it will be profitable; she's out. Mark doesn't think they can scale; he's out. Kevin says Google and Amazon have similar products in development; he's out too.
All Sharks are out, but the guys keep selling. They say they're projecting 16 million next year. Their manufacturer, who's an investor in the company, is giving them a deal on direct import purchase orders from retailers. They want a Shark to help obtaining retailers. As they're about to leave the Tank, Robert comes back in. He offers $500,000 for 25% and they accept.
Codi Shark Tank Update
The Shark Tank Blog constantly provides updates and follow-ups about entrepreneurs who have appeared on the Shark Tank TV show. The deal with Robert never closed. In January, 2021, the robot was named as one of Healthline Parents Best of 2021. As of January, 2023, the company is still in business with annual revenue of $1.2 million.