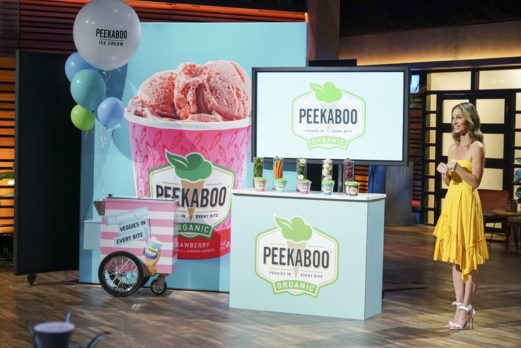 Jessica Levison wants to scoop up a Shark to invest in Peekaboo, her vegetable infused ice cream, in Shark Tank episode 1125. Levison, like most parents, has kids who just don't want to eat their vegetables. Kids LOVE ice cream though, so she began mixing veggies into her home made ice cream to give to her kids. In January, 2018, she started making Peekaboo for distribution to the masses.
She combines traditional ice cream flavors like strawberry with carrots. The chocolate flavor contains cauliflower; Cotton Candy has beets; Vanilla has zucchini and Mint Chip has spinach. All the ingredients are organic and GMO free. As a socially conscious business, they donate a portion of their sales to Team No Kid Hungry, a non-profit that provides food for hungry children.
The ice cream is available at many stores including select Whole Foods, Safeway, Kroger and many more. If you can't find it in the store, you can buy it on Amazon. She wanted to introduce a vegan ice cream option in 2020, but the Covid-19 pandemic set those plans back. In 2018, her ice cream was recognized as the most innovative products of the year by Mintel, the world's leading market intelligence agency. She hopes the buzz and the yumminess of her ice cream can lure a Shark into investing.
Company Information
Video

Posts about Peekaboo on Shark Tank Blog
Peek a Boo – Vegetable Ice Cream
Peekaboo Shark Tank Recap
*This episode aired in season 12 on 12/11/2020 but was filmed for season 11 in 2018*
Jessica enters seeking $800,000 for 8% of her business. She tells her story, gives her pitch, then hands out samples. The Sharks like the ice cream, but not the $10 million valuation. They dislike the valuation even less when she shares the past year's are only $450,000. She claims she'll be in 3000 stores by the end of the year (2018) and will have $5 million in sales.
Lori offers a 3 year, $800,000 loan at 6% interest for 5% of the business contingent on developing low fat versions of her product. Kevin offers a 3 year, $800,000 loan at 9% interest with no contingencies. Jessica asks the Sharks to reconsider their offers. She wants a strategic partner, but the Sharks don't budge and she ultimately leaves the Tank with no deal.
Peekaboo Shark Tank Update
The Shark Tank Blog constantly provides updates and follow-ups about entrepreneurs who have appeared on the Shark Tank TV show. Jessica did get in to 3000 stores, including Kroger, Safeway, Whole Foods, Bristol Farms, Lazy Acres, Shop-Rite, Amazon and more. In May, 2020, Ramar Foods, Peekaboo's co-packer, recalled Peekaboo Ice Cream Brand due to possible Listeria contamination. Nobody was harmed by this incident. As of July, 2021, annual revenue is $3 million.
By August, 2022, the products are no longer available in retail stores, but you can order online. Whether the removal from store shelves is due to the Listeria issue remains to be seen. Revenue was likely affected by this issue.
In October, 2022, the ice cream is sold out on their website and "currently unavailable" on Amazon. Social media has not been updated since December, 2021.