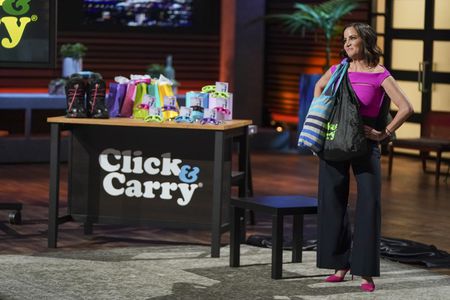 Kim Meckwood seeks an investor for Click and Carry, her "handle" for carrying multiple shopping bags, in Shark Tank episode 1125. The idea literally came to her in a dream back in 2008. She took the idea and hired a student from the Pasadena Design School to make a 3D printer prototype. After some tinkering, she found success with her second mold and decided to manufacture, patent and sell the product.
Kim has a background in medical device sales, so she knows how to get a product "out there." Initially, she sold Click and Carry at Farmer's markets and swap meets, but when she developed breast cancer, she put her product on the back burner. After beating cancer, she decided to go full throttle with Click and Carry. Her life changed when a buyer from QVC saw the product at the Home + Housewares show in Chicago. After having some success on QVC, she was able to get the product into stores like Ralphs, The Container Store, CorningWare, ShopRite and on Amazon.
The product itself is fairly straightforward. It's basically a gel grip handle with a rotating top that lets you slide in multiple shopping bags. You can carry them with your hand or hang them over your shoulder. You can literally "wear" your shopping bags. Kim wants to expand on demonstrating the product in stores by creating mini screen point of purchase displays that demonstrate the product in stores. That takes money and she hopes a Shark will help with that.
Company Information
Video

Posts about Click and Carry on Shark Tank Blog
Click and Carry Shark Tank Recap
Kim enters the Shark Tank seeking $225,000 for 15% equity in her business. She tells her story and gives her pitch. Barbara and Lori come up onstage to help Kim demonstrate the product She hands out samples to the Sharks. Lifetime sales are $625,000 with only $70,000 in the last year. Each unit costs $1.85 to make and sell for $11.99. She still works fulltime, which is why she's here.
Mr. Wonderful says this is a hobby, not a business; he's out. Lori and Robert also go out, leaving Barbara and Mark. Barbara asks if she'd sell the business outright and Kim says no. Barbara then offers $225,000 for 85% and Kim says no, saying this thing is something special. Mark says she's special, but she needs someone to run the company. Mark says he'll go in with Barbara at $225,000 for 40%. They'll handle the operations and Kim can focus on creating new products. Kim accepts!
Click and Carry Shark Tank Update
The Shark Tank Blog constantly provides updates and follow-ups about entrepreneurs who have appeared on the Shark Tank TV show. The deal with Mark and Barbara never closed. In the aftermath of the show, Kim saw a big increase in sales. On Facebook, she said she was "slammed" with orders. Some reports say she did $70,000 in sales in the immediate aftermath of the show. Eventually, the product found its way onto shelves in Target, Lowes, WalMart. You can also buy it on Amazon.
In March, 2022, Kim announced she would be introducing a new product sometime before the end of the year. She didn't offer any specifics, but she said it "will help make the lives of surfers, skiers and construction workers a little bit easier." As of September, 2022, she has not released the product. Annual revenue is $1 million. Shark Tank Blog will update this page as more information becomes available.