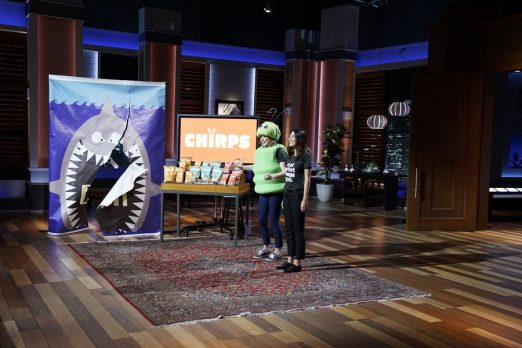 Harvard graduates and former roommates Laura D'Asaro and Rose Wang hope the Sharks bite on Chirps, their tortilla chips made from cricket flour, in Shark Tank episode 815. Fellow Harvard alum Meryl Natow, another partner in their parent company, Six Foods, does not appear onstage during the pitch. The three friends began cooking crickets they bought at a local pet store after Wang returned from traveling in China where she tried – and liked – her first insect snack: a fried scorpion. Their experiments led them to form Six Foods with the mission of bringing insect-based snacks to the people of America. Some Americans like the stuff, or at least the idea; they raised over $70K in a successful Kickstarter campaign back in 2014.
Six Foods manufactures Chirps Chips and Chirps cookies from milled cricket flour. Crickets contain all nine essential amino acids and more magnesium than beef. They're also far more sustainable to raise: a pound of cricket protein takes 1 gallon of water to produce whereas beef takes over 2000 gallons to produce the same amount of protein. The company's biggest challenge is convincing Americans to try their product. While billions of people around the world regularly consume a wide variety of insects, the practice hasn't caught on in the USA.
Laura is a self professed "entotarian," a vegetarian that eats vegetables. She believes crickets are the food of the future. While there are many other edible bugs, crickets are clean, healthy and readily available from many cricket farms that cater to the pet trade. Ramping up cricket production at these facilities is fairly easy, so the supply is reliable.
Chirps cost $6.99 a bag through the company website. The Six Foods crew has plans for more cricket based products, including a "bug burger." They do not sell cricket flour, like season five's Chapul; their goal is creating snack products that people will eat. They likely need a Shark to help them penetrate the national grocery chains. Will a Shark bug out over this opportunity?
Chirps Shark Tank Recap
Laura and Rose enter seeking $100,000 for 7% of the company. They begin with explaining the challenges of getting Americans to eat these kind of snacks. A discussion about the sustainability and protein power of crickets follows. Their Chirps chips are an easy way to introduce bugs to the populace. If it works, they can put bugs in anything.
Each chip has one bug in it , but it tastes like a regular chip. They hand out samples. Barbara thinks they smell a bit funky when you open the bag, but the chips are delicious. Mark asks about the business and they say they just signed with 2 natural food distributors and that they're in around 100 locations. Sales this year are $200,000. Next year they are projecting $1.5 million due to placement in museums, zoos, aquariums, and theme parks.
Mark, who invested in Chapul, is very interested in the business and offers $100,000 for 20%, but he needs an answer right away. Rose and Laura counter with $100,000 for 15% and Mark accepts!
Chirps Shark Tank Update
The Shark Tank Blog constantly provides updates and follow-ups about entrepreneurs who have appeared on the Shark Tank TV show. As I predicted, Mark invested in Chirps. They closed their deal and expanded distribution. In 2019, the company won a $20,000 prize in the SNAC Tank in Orlando – a Shark Tank style competition for snack food entrepreneurs that Barbara Corcoran emceed.
Since doing the deal with Mark, Chirps added new products: cupcake and cookie mixes, whole roasted crickets and cricket protein powder. The products are available in over a thousand stores nationwide including all Vatamin Shoppe stores. On a fun note, Chirps helped break the world record for largest nacho platter when their chips were used to make 5000 pounds of nachos!
As of November, 2022, the company is still in business. They even wrote a children's book! Their estimated annual revenue is $1 million – $2 million.
Posts About Chirps on Shark Tank Blog
Chirps Company Information
Video