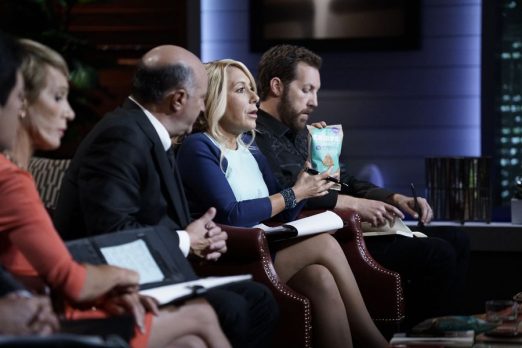 Chris Sacca returns to the Shark Tank for the third time this season in episode 815. He, along with the Sharkettes, Mr. Wonderful, and Mark Cuban will evaluate four new businesses seeking an investment from the wealthy panelists. Former roommates and Harvard graduate Laura D'Asaro and Rose Wang want the Sharks to bite on Chirps, their snack chip made from cricket protein flour. Amelia Cosgrove and Bryan Thomas want the Sharks to play in their fort when they introduce Popup Play, a business that lets kids design their own play houses. Pete Davis and Jon Staff want an investment to expand their tiny house vacation rental business, Getaway, to more cities across the country. Jackson Mann hopes the Sharks hear what he's saying when he demonstrates Vibes, noise filtering, decibel lowering earplugs designed specifically for live concert and music venues.
Which business catches a Shark tonight?
In yet another "Shark Profile," we get a close-up look at Barbara Corcoran's past and how she grew a $1000 loan into a successful real estate brokerage she sold to Realogy Corporation for $60 million. In the segment, we'll get a glimpse of her childhood home and hear how she became the top broker in New York City befor becoming a Shark.
There are 28 Shark Tank Episodes for Season 8. This season features more appearances by Chris Sacca and a host of other surprises. Casting is currently closed, but it never hurts to get a head start on season nine! If you would like to appear on the show, check out our Auditions and Casting information.
Episode 815 – The Shark Investors and Entrepreneurs
The Shark Tank Episode 815 entrepreneurs will make their best pitch to the panel of five Shark investors who will use their own money if they choose to invest. The Shark Investors negotiate on the spot without any previous information, which differs from typical negotiations between venture capital investors and entrepreneurial start-ups.
Companies pitching the Shark Investors must go through a rigorous due diligence process before an on-air deal is completed. Shark Tank Blog follow ups help you keep track of the companies that end up successful and the ones that don't complete their deal.
Thank you for reading SharkTankBlog, the number one site for Entrepreneurs, Investors and Fans. Our content updates multiple times day, giving you the latest information on Episode 815, Season 8, and all other seasons and episodes.
Episode 815 Press Release
Episode 815 (1/27)
ENTREPRENEURS SEEK TO CAPITALIZE ON THE TINY HOUSE TREND, AND THE SHARKS FIND BUGS IN THEIR SNACK CHIPS, ON ABC'S 'SHARK TANK'
In the Fourth in a Series of Shark Profiles, Real Estate Mogul Barbara Corcoran Tells Her Story, Which Includes a Visit to Her Hometown of Edgewater, New Jersey.
"Episode 815" — Entrepreneurs from Somerville, Massachusetts, rent tiny houses in the woods where people can unplug, recharge and rebalance their lives; former Harvard University classmates now living in San Francisco hope the Sharks agree that snack chips made with cricket flour are the future of affordable and sustainable proteins; a concertgoer from Minneapolis, Minnesota could change the way people listen to music with earplugs designed to filter out damaging levels of sound while protecting one's ears; and an Austin, Texas couple created a modern version of a favorite childhood toy, but a deal might be in jeopardy when the Sharks learn that a majority of their revenue comes from a single source.
Real estate mogul Barbara Corcoran is featured in a profile highlighting her inspiring entrepreneurial journey. Years ago, she borrowed $1,000 from her boyfriend and quit her job as a waitress to start a tiny real estate company in New York City. Eventually, she would parlay that loan into a $5 billion business. Barbara, who was the first to sell real estate on the Internet, sees being a woman in business as an asset. A hometown visit to Edgewater, New Jersey, highlights her humble beginnings and the two-bedroom flat she shared with her parents and nine siblings, on "Shark Tank," airing FRIDAY, JANUARY 27 (9:00-10:01 p.m. EST), on the ABC Television Network.
The Sharks in this episode are Mark Cuban, Barbara Corcoran, Kevin O'Leary, Lori Greiner, Chris Sacca.