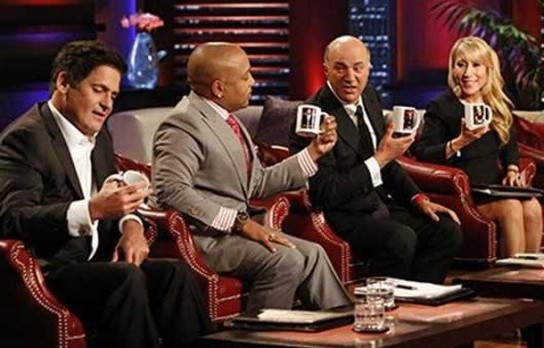 Dan Cafferty hoped to get an investment for Coffee Brand Gifts in episode 104. Prior to appearing, he attended a coffee trade show. He noticed that, while there were many products represented, there were very few novelties or gift ideas for the average coffee lover. Games, stuffed bears, and other novelties that reflect the wide-spread love of coffee just weren't available. He checked with his patent lawyer, and discovered that no one owned the patents on the words "latte", "java", "coffee" or "cappuccino." He promptly took out a patent on common coffee words, with the intention of creating a line of products emblazoned with the words he now owned – this was the Genesis of Coffee Brand Gifts. He took his idea into coffee shops and cafes, and took surveys of customers to gauge the interest in the products. Cafferty had one problem. He needed the funding to begin producing the items he proposed to sell. He turned to the Sharks for help.
Coffee Brand Gifts Shark Tank Recap
Cafferty begins with a strong pitch. He's asking for $300,000 for a 40% stake in his business. He explains the patents, and Robert Herjavec jumps in. "Ok, I'll buy that you have a trademark. But, why should I care?"
Cafferty tells him that he's "the only guy in the US" who can sell products with the trademarked terms. He's done "extensive" surveys, in coffee shops and cafes, getting customers to try his games and examine his products.
Cafferty has done the research and he's confident that his products have a solid market. He just needs the capital to get started with production. He's already invested $400,000 of his own money, and is asking the Sharks for the capital to bring Coffee Brand Gifts to fruition.
Kevin O'Leary, in typical Shark style, brings the discussion back to the bottom line by asking "So, do you have any orders for any of this crap?"
At this point, Cafferty begins to waver. "I have commitments" he claims.
"What does that mean? Is that like in college, when a girl promised to call me back, and never did?" asks Herjavec.
Without sales, there is no profit potential. One by one, the Sharks turn the offer down flat. Cafferty tries to argue with the Sharks, but their bottom line is that Coffee Brand Gifts has no sales, and without sales, there is no money to be made, and therefore, no investment. He leaves the stage obviously disappointed with the result of his visit to the Shark Tank.
Coffee Brand Gifts Shark Tank Update
After the show, Cafferty vows to prove the Sharks wrong. He is invested in this business idea, and determined to carry it out, with or without their support. Unfortunately, an idea is all that Cafferty has. Without sales, or orders, his commitments are worth no more than the Sharks were willing to invest. Although he still owns the patents, and he goes in other directions venture-wise, Coffee Brand Gifts never gets off the ground.